This post is sponsored by HERDEZ® but the content and opinions expressed here are my own.
Dia del Niño, or Day of the Child, is a festive holiday celebrated across Mexico and many Latin American countries to honour and appreciate children. Growing up, I remember my cousins in Honduras would always ask me what I got for Dia del Niño, as it is custom that children receive regalos como en Navidad or similar to their birthday. Dia del Niño is a lively celebration which more than often includes a piñata, cake, presents y comida y refrescos tipicos de el pais. But, since I didn't grow up in Honduras, my family didn't celebrate Dia del Niño… and I always felt like I was left out, hahaha. I mean who doesn't like a party with delicious food and games?
So, now that I have a child of my own, I am determined to celebrate Dia del Niño, especially since she is Half Mexican/ Half Honduran. Our plan is for her to have a couple of pen-pals via SNAIL MAIL and see how other children celebrate Children's Day in their country or even family.
We will also make a traditional dish, as a family. It's important to include your child in food prep/cooking, so they can get their hands dirty and have some fun cooking as a family. Some of my favourite childhood memories are of grocery shopping and helping my parents prep/cook, they inspired the chef in us from a young age. And we want to continue that tradition with Little Moon 🙂 It's a great way to show her how to use her senses (taste, smell, touch, sight…).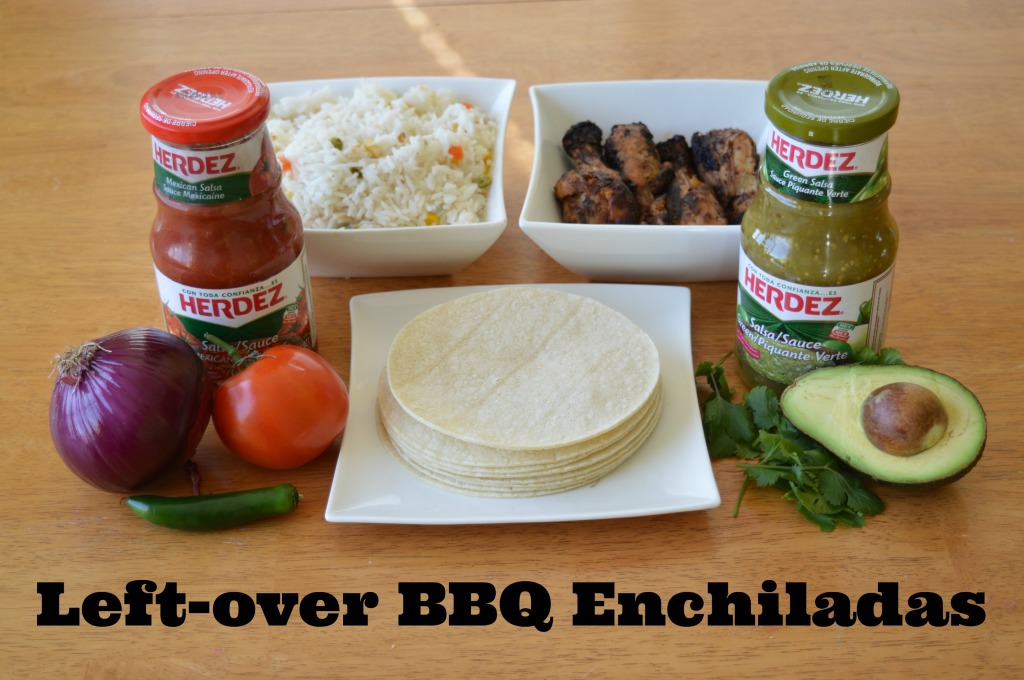 A favourite (and easy) dish to prepare are BBQ Left-over enchiladas, an easy Mexican recipe. For the stuffing of the enchiladas, I used our left-over rice and meat from the BBQ the night before). First, I sauteed onions, cilantro and mushrooms in a skillet. Then, I added the meat (chicken , which I shredded off bone and beef that I minced up), stir. Add in the rice, a can of black beans and a cup of  delicious  sauce. Simmer.
Throw in 6 tortillas into the microwave and heat em up for 30 seconds, then grab a tortilla…and grab a couple cucharadas of the enchilada filling and colocar right down the middle of tortilla. Then you wrap that bad boy up and place into an oven dish and repeat until all of your tortillas are stuffed.
Now comes my favourite part, DROWN the enchiladas in the mouth-watering Herdez® Salsa Verde. Just thinking of this salsa is making me drool, for reals. Top off with shredded cheese and cover with aluminum foil. Pop into over for 15 minutes.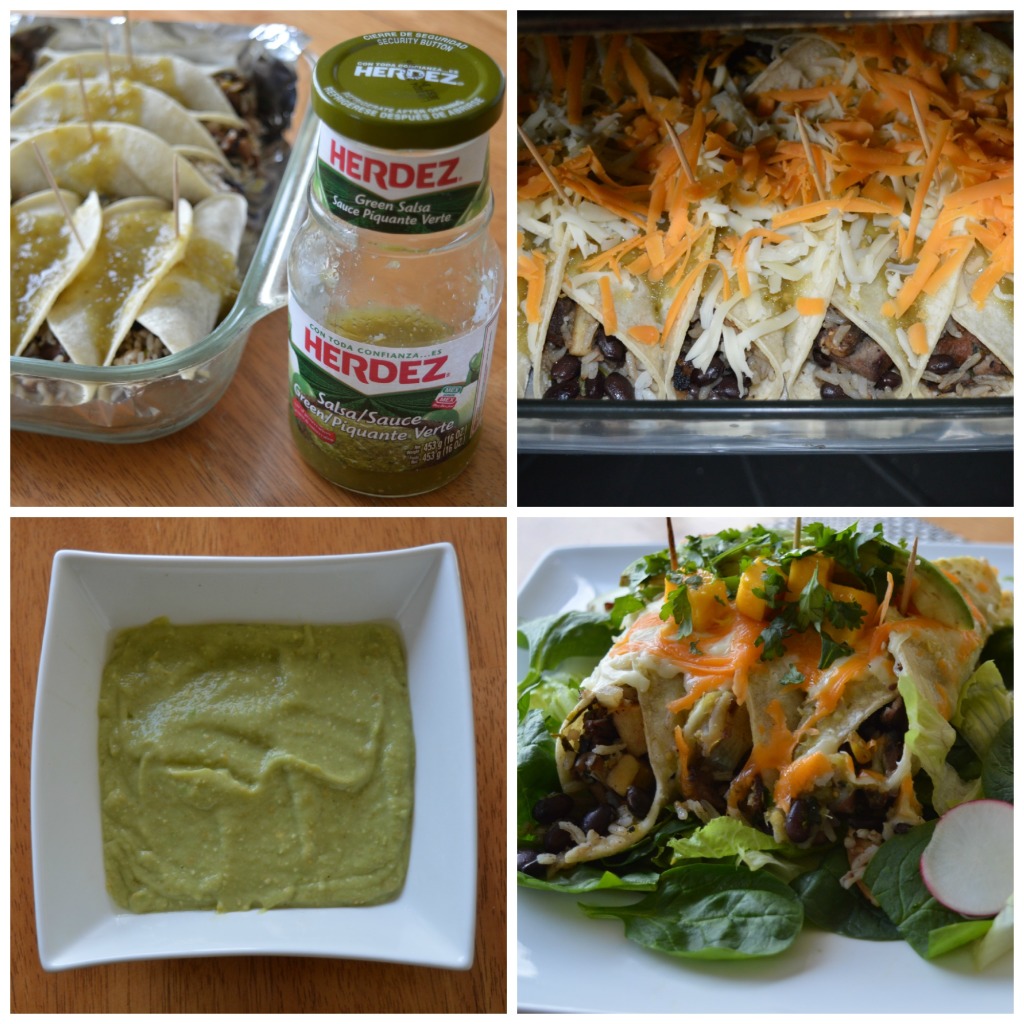 Can't forget about the creamy  avocado sauce to lather your enchiladas in. Super easy to make. In a bowl, mash a whole avocado and add Herdez® Salsa Verdad and mix. Yummm.
I serve the enchiladas on a bed of spinch salad and a side of creamy avocado sauce 🙂 Let me know what you think recipe, and you can check out more  easy Hispanic recipes for Day of the Child by clicking here! 🙂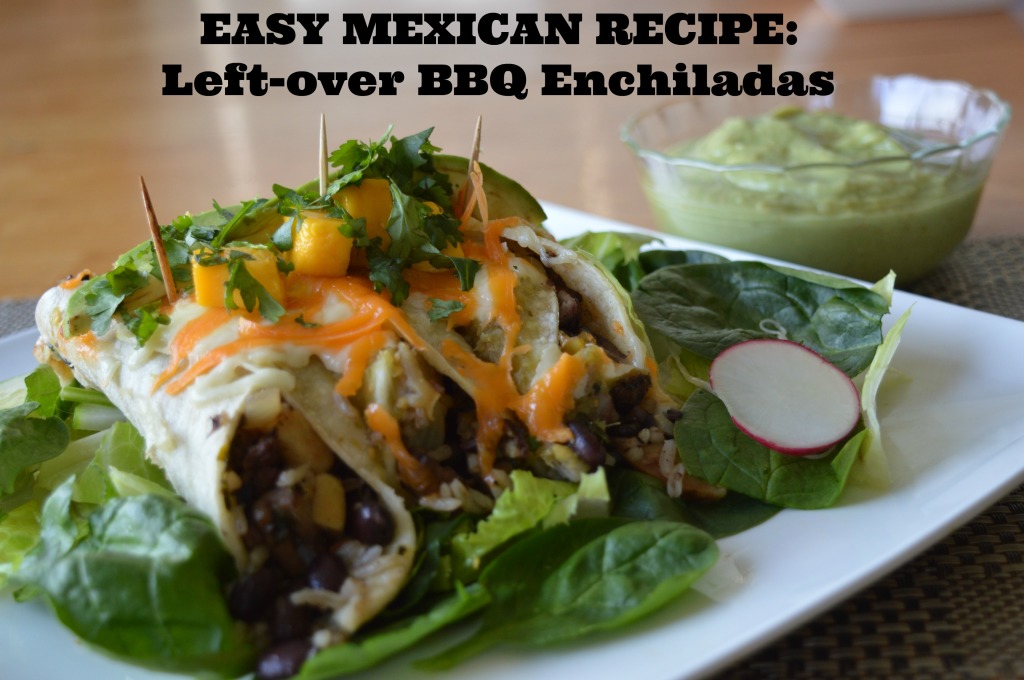 As this holiday celebrates the kid in everyone, HERDEZ brand is holding a #ThrowbackThursday photo contest on its Facebook wall! This promotion will last from April 6th to – April 30th.
Each week, three winners will be chosen to win a Día del Niño prize pack. One grand prize winner each week will win a socialmatic camera, film, HERDEZ product, HERDEZ apron and recipe cards. Two runner up winners each week will win a selfie stick, HERDEZ product, HERDEZ apron and recipe cards.
To enter submit your favorite childhood photo tagged with #ThrowbackThursday directly onHERDEZ's Facebook page.