This shop has been compensated by Collective Bias, Inc. and Quaker. All opinions are mine alone. #CollectiveBias #LoveMyCereal #QuakerUp
Hi NOTM readers! It's Jessika writing in from Los Angeles, recovering from a hectic but wonderful holiday season. I can't help but feel like I got hit by the Christmas train this time around. I'm sure that first time moms can relate but I had so much expectation for Nina Rose's first Christmas that I may have run myself a little ragged in the process (We made tamales twice in one week!). At 10 months old she had no idea what was going on, but she really liked the wrapping paper! As 2014 came to a close I found myself reflecting on the most amazing year of my life (a wedding and a baby!) and the many lessons I've learned along the way. I'm sure that most parents would agree that the first year of parenting is so full of personal growth & probably growing pains if we are honest with each other.
I never knew how strong I could be and that's why I am so excited for the New Year and making some really well thought out and ambitious new years resolutions. I have struggled with my weight my entire life and have only recently learned to accept and appreciate my curvy Latina figure (another thing I can thank motherhood for!) and stop struggling against it. Every single resolution I've ever made has been "I'm going to get skinny!" or "I'm going to loose this many pounds…or else!" But this time I am resolving to not make those types of resolutions. Because I'm resolving that in 2015 I am going to take better care of myself. I really want to be the best example for my daughter as I can be, and to me that means not focusing on a number on a scale but making the right choices. Taking care of myself physically, mentally, and emotionally.
Part of this resolution for me means eating a breakfast. I've always been bad about it. And when I do want to eat breakfast I want chilaquiles, tortilla con huevo, or a nice burrito with chorizo con papa… see my problem? Latin food is just so good! So I decided to take a bowl of avena and make it a fun breakfast for kids and parents. We spend the holidays with my parents in the suburbs and whenever I'm out there I love shopping at big stores! It's something you don't have access to when you live in the city and I miss it sometimes from my childhood. So with the baby asleep my Mom and I made a <Wal-Mart run. While we were there I picked up all my ingredients for my Quaker® Life Chia Fruit Bowl and a couple other items for easy baby friendly breakfasts while you are away from home. I grabbed a box of the Quaker® Squares and Quaker® Simply Granola so that I can throw them in the diaper bag for an easy snack while we run around town and also a Quaker® Real Medley. We loved the Quaker® Real Medley, I added milk instead of water and Nina Rose ate the entire container. I actually thought we would share but she didn't give me a chance!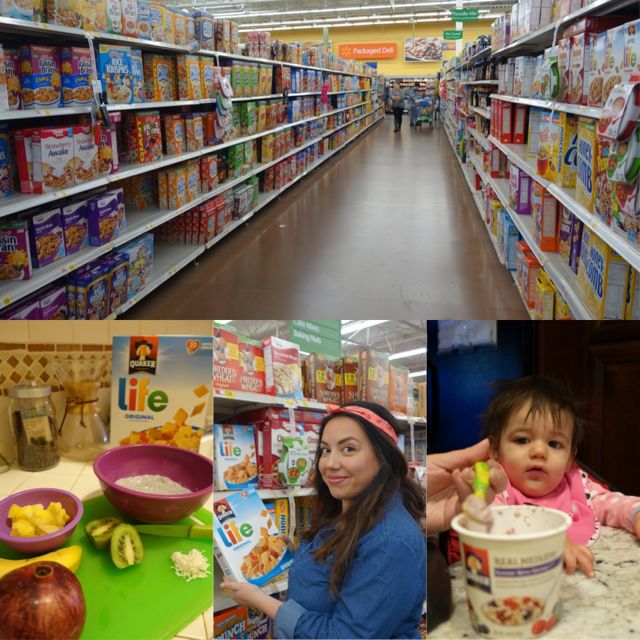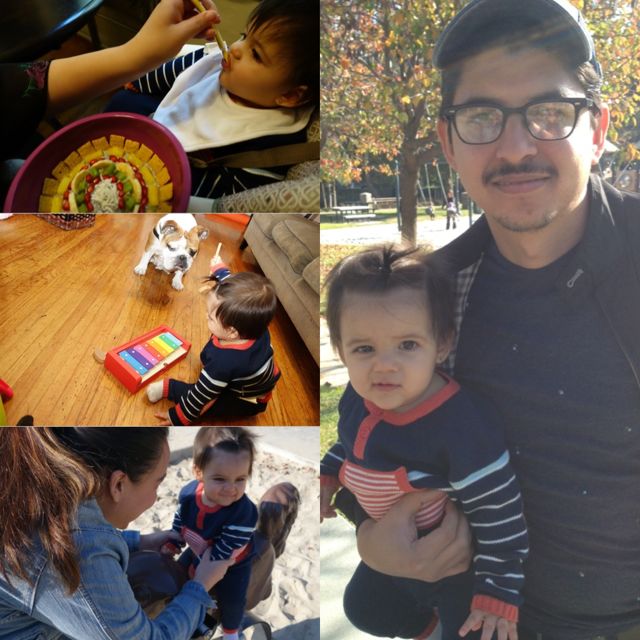 This Quaker® Life Chia Fruit Bowl recipe is really great when you have kids who are old enough to help in the kitchen or who are crafty as it's half recipe and half art project. Nina Rose and I both ate this for breakfast and we were ready to go and full of energy for a day at Coldwater Canyon Park in Beverly Hills. This is so easy to pack for on the go meals or as a busy project that they can eat! There are so many variations depending on the season, your mood, or just your favorites. I would love to see some of your creations and ideas to keep this recipe interesting and in your regular rotation!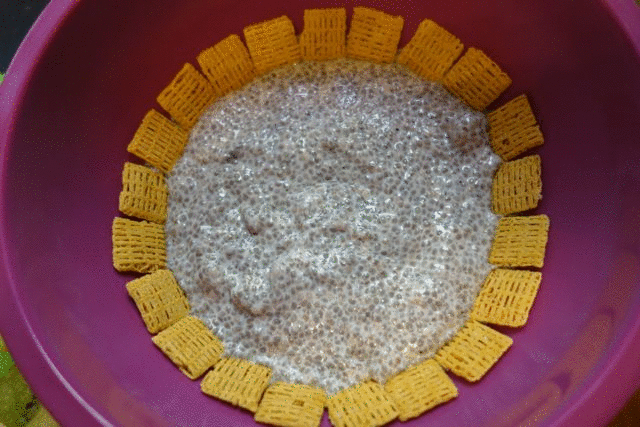 Quaker Life Chia Fruit Bowl
Chia Seeds 4 Tablespoons
Organic Milk or Milk Substitute 1/3 cup
Greek Yogurt (Full Fat) 1/3 cup
Quaker Life Cereal ½ cup
Quaker oatmeal (I used orginal) 1/3 cup
Kiwi
Pineapple
Pomegranate
Banana
Shredded Coconut
Mexican Cinnamon dash
Lechera 1 teaspoon
The night before mix chia, milk, yogurt, and oatmeal, cinnamon, and lechera in a bowl. Cover and refridgerate over night .
Dice fruit and decorate your bowl however you like!
That's it! So easy and really delicious!