The Fall festivities of  Thanksgiving and Halloween are now past us, so obviously it's never to early to talk Christmas! This month of November we're talking about how to prepare for baby's first Christmas meal. Sometimes the festive season can bring a change of schedule for your baby. With your baby's first Christmas just around the corner, it's certainly an exciting time. From experiencing a family holiday, to enjoying new sights and smells, there is so much to look forward to.
Naturally, one of the things that should be top-of-mind is what your baby will taste this Holiday season.
While there is great joy in showing your baby everything that this wonderful holiday has to offer, it's also important to ensure you know what they can and cannot eat and how to offer them Christmas foods. Below are some tips for preparing baby's first Christmas meal.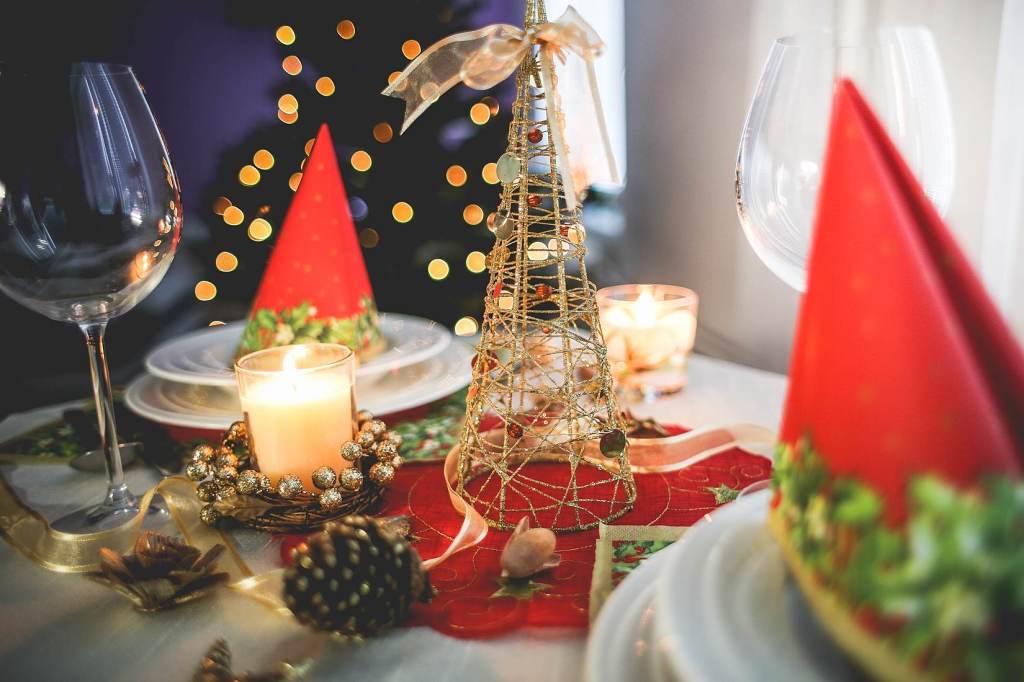 Turkey Time
Gobble, gobble, baby's first Christmas meal MUST include TURKEY! Iron-rich meats are a great choice for introducing to your baby after the age of 6 months, so don't shy away from giving your baby some delicious turkey . Turkey was one of Luna's first foods, we pureed the meat until it was very smooth using a hand-held blender on pulse. The final product should drip easily from a spoon. I would also change the consistency and texture as Luna got older by not pureeing it as much and adding some veggies. If the consistency was thick, I would add breast milk (it works for everything!). You can try adding that, formula or water to the mixture too. Fattier meat from the turkey thigh or leg works best for this baby-friendly Christmas staple.
Variety of Veggies
Those delicious side dishes of green bean casserole, glazed carrots and mouth watering buttery mashed potatoes are another Christmas dinner staple. And baby shouldn't be missing out on these either, so put aside some of the carrots and beans to puree for baby to enjoy. As for the mashed potatoes, make sure to set aside some of  the PLAIN mashed mixture (before adding butter, cheese and bacon). Like the turkey, if the consistency of the mash is too thick, you can think it with breast milk or formula.
Know the Ingredients
While we all have our traditional family recipes, if you're dining with a new family or a new recipe is introduced, ensure you know what's in the food before serving to baby. Things like nuts, heavy cream and spicy seasonings can be hidden from the naked eye in casseroles and stuffing. Be sure to double check with your host on these items ahead of time. To be safe, bring along your own Christmas-themed baby-friendly food option like PC® Organics Apple Strained Baby Food Pouch or PC® Organics Pumpkin, Apple, Peach & Buckwheat Strained Baby Food.
Sweet Treats
We love having a warm slice of apple pie and a scoop of vanilla ice cream after our Christmas meal. This obviously would have too much sugar for Little Moon, so we would have a warm apple puree with a pinch of cinnamon for her. Again, depending on how we wanted the consistency we would add breast milk. You can also skip the extra effort by offering baby a sweet treat like PC® Organics Blackberry Cobbler Flavour  pouch. Remember to keep the sweet servings small while you introduce your baby to this new area of deliciousness.
Foods to Avoid
Who doesn't LOVE drowning their turkey in the special Christmas condiments like gravy and cranberry sauce? Although adults may love their sauces, serving these items to your baby might not be the best idea because of all the salt and sugar these condiments contain. Babies don't need added salt or sugar. Stick to plain foods as your baby gets used to consuming and digesting solids.
No matter how you decide to celebrate you baby's first Christmas, it's sure to be one to always remember. Take lots of pictures, invest in creating family memories and, most of all, have fun!