Glass baby bottles are the way to go when it comes to feeding your baby for several reasons. First, with glass bottles you don't have to worry about any chemicals leaching into the milk and into your baby. Because even though the majority of plastics are now labelled BPA-Free, there is still concern about other chemicals. Glass is also easier to clean, as it doesn't absorb smells or flavours, like plastic. Unlike plastic, glass is better for the environment. It is easier to recycle and reuse/re-purpose. So, since glass is better for baby and the environment we decided to give it a go with joovy Boob Glass Bottles.
Boob Glass Bottles are designed for comfort, durability and efficiency. They are BPS, BPA, phthalate, and lead free. The nipples are soft and durable, making it easy for babies to transition from breast to boob (bottle).
Take extra care of your Boob Glass baby bottle by adding a colourful silicone sleeve that will help protect from breakage. The silicone sleeves come in 5 vibrant colours that not only cushion the Boob bottle, but also adds a little pop of fun. It's easy to slip on and slip off.
The joovy Boob Glass Gift Set also includes two breast pump adapters that are compatible with my Medela pump. And two sealing caps. For a complete list of what's included in the Boob Glass Gift Set, keep on scrolling to the bottom!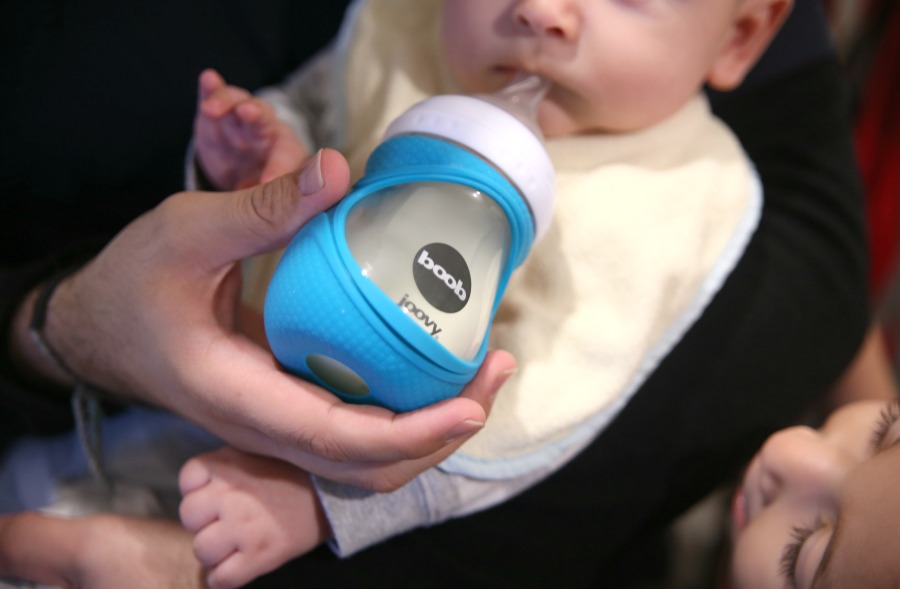 Why we love the joovy Boob GLASS Baby Bottle:
Doesn't stain or absorb odor/flavour.
Easy to clean.
Better for the environment.
Naturally insulates fluids.
Dishwasher safe.

The joovy Boob Glass Gift Set is the perfect baby shower gift, as it has all the essentials for feeding baby:
5 oz./160ml Bottles with stage 1 nipples  (3)
5 oz. Turquoise Sleeve (1)
8oz./240ml Bottles with stage 2 nipples (3)
8 oz. Turquoise Sleeve (1)
Stage 0 nipples (2)
Breast Pump Adapters (2)
Sealing Caps (2)
Formula Dispenser (1)
Bottle Brush (1)
Nipple Brush (1)
All included essentials are dishwasher safe and BPS, BPA, phthalate, and lead free.
Check out my Boob Baby Bottle Glass Gift Set unboxing here. So if you have a baby shower to attend, or want to start using glass bottles for your little babe, definitely look into joovy Boob Glass Baby Bottles.