This shop has been compensated by Collective Bias, Inc. and its advertiser. All opinions are mine alone.
I've always had a healthy lifestyle, I eat a balanced diet and get a little bit of exercise in here and there. But sometimes life can get so busy that we forget to eat, which is no good! Everyday life stressors also have an impact on our health as well, so it's important to make sure that we atleast have some healthy snacks in our home.
And that's where Kefir comes in- a smooth, tart and refreshing cousin of yogurt. I first heard of Kefir a year ago while researching for creamy dairy beverages that were lactose free since I am lactose intolerant. I was a bit hesitant to try kefir at first because the smell is a bit tart, but after the first gulp I was addicted, I was pouring it into everything.
Now it was time to let  Gabriel have a try. I just poured it into a glass and served it to him, I just said it was a smoothie and he drank it right up. When I told him that it was kefir, he was like "QUE es ESO?" y le dije "Kefir is related to yogurt, but it's way better because it's more than 90 % lactose free, so it wont hurt us."
He was estatic since he is also lactose intolerant. Kefir is also great because it is rich in protein, Lifeway Kefir contains 7g of protein per 3/4 cup (175 mL) and contains 12 live and active Probiotic cultures that support the immune system and balance digestive health.
That's why when I saw that #CollectiveBias had this campaign with Lifeway Kefir I jumped at the chance to share my experience with you guys.
We had only tried the "Original" Kefir  flavour before, so this time around we picked up a bottle of Peach and Strawberry flavour from Safeway, in the dairy aisle. In our local safeway, the Lifeway Kefir can be found in aisle 7, with the eggs, yogurt, cheese, spices, cake mixes and jelly powders.
Kefir is indeed a great alternative for milk! It's better than milk because of all the health benefits and can be enjoyed in a varierty of ways. Lately, I've been obsessed with the "overnight oats" for breakfast! Super easy breakfast; especially for new moms like me who can't seem to get enough time to cook a hearty breakfast.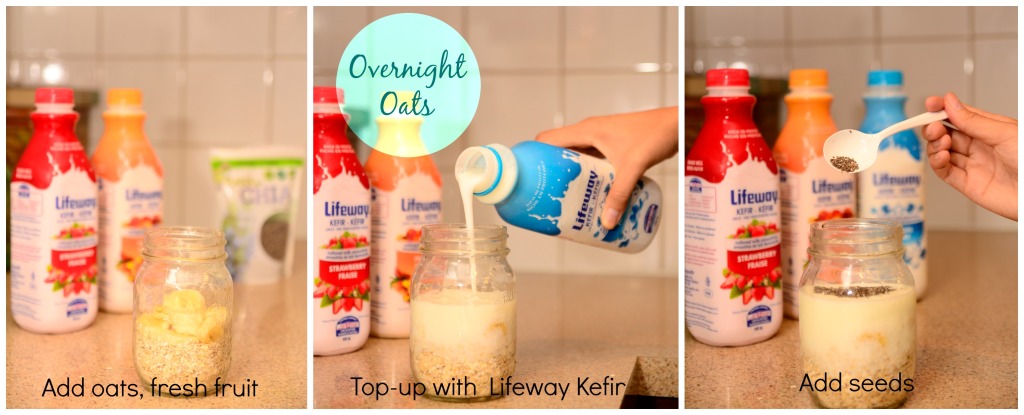 Overnight Oats Using Lifeway Kefir
Like I mentioned before, this is currently my go-to breakfast. It take less than 5 minutes to prepare and is ready to eat in the morning for breakfast. I usually make 5 at a time. Follow the easy steps below to make your own overnight oats using Lifeway Kefir.
Grab a mason jar
First place oats in the jar, as much as you want
Add fresh fruit
Top up with Lifeway Kefir
Add seeds
Close with lid and shake
Store in fridge.
Here are some more of my favorite ways of drinking/eating kefir: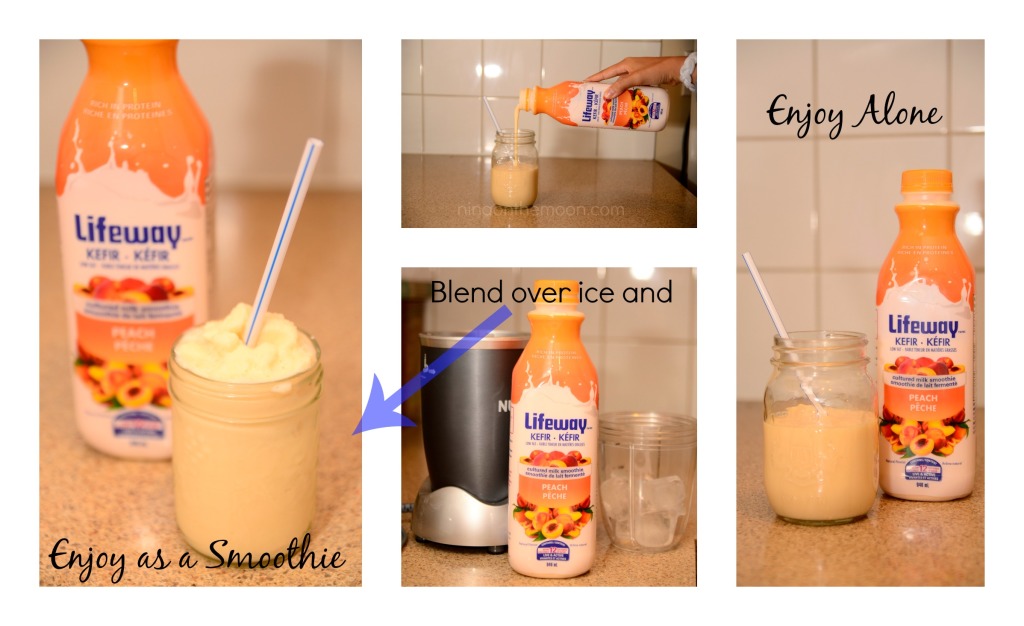 Alone: Simply pour into cup and serve with a straw.
Smoothie: With the strawberry and peach flavour , I just pour into blender and add ice. For the "Original" flavour I like to add fruit or seeds.
Over Fruit: Cut up some fresh fruit, place in bowl and pour kefir on top.
With Cereal/Granola: Pour kefir over cereal/granola
Freeze as Popsicles: Pour kefir into popsicle container and freeze over night.
Instead of milk/water for pancakes.
As a substitute for milk in baking