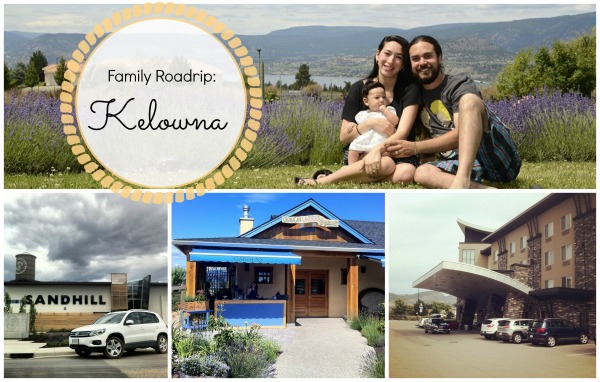 Roadtrips have always been a part of my life, I have so many awesome memories of when my parents would pack up the van and take us on a trip down to Honduras, Tennessee and New Orleans.  My brothers, sister and I loved to read/tell stories, play guessing games and sing in the car. Those were really special moments, family bonding at its best.
So it's no surprise that I want to continue that tradition of exploring and family bonding with my own little family.  Gabriel had to go to Kelowna to shoot a wedding for a couple of days, so I decided it would be fun for Lunita and I to tag along for the ride. Our plan was that while he worked, we would hang out at the hotel and when he was off, we'd explore the town of Kelowna together.
Alright, I'll admit it, I was a feeling a little bit of apprehension since the drive to Kelowna is about a four hours and Luna was only four months old. I wasn't sure how she'd deal spending so much time in her car seat. Thankfully, it was smooth sailing, she slept most of the way. And when she woke up, we pulled over, had a nice stretch and took a couple minutes to enjoy the beautiful scenery of the Okanagan.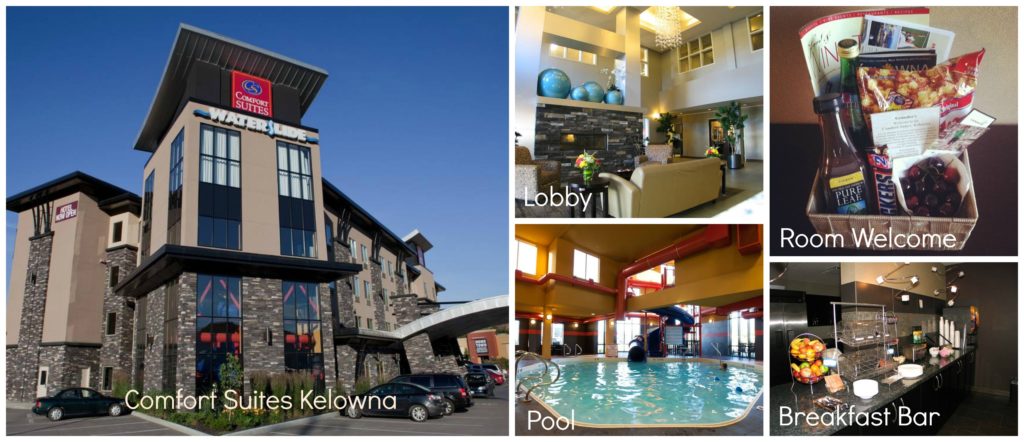 We checked in at the Comfort Suites Kelowna, a Gold Award-winning hotel just minutes away from wineries, the lake and Downtown. The staff and GM Carla really go above and beyond to make their guests feel right at home, from the moment you step into their hotel you a greeted with a hello and warm smile. We were in awe when we entered our room, it was spacious, great natural light and a nice view of the mountains.
But what really won me over, was the welcome basket. It was packed with treats, tour pamphlets/guides, 2 tickets for wine tastings, a handful of FRESH Okanagan cherries and a warm welcome note! Oh, and the team gave Lunita a cute blanket too.
While Gabriel was working, Lunita and I hung out in the hotel pool. This was her FIRST time in a pool and she really loved it.
Breakfast was HOT, delicious and FREE; to eat the options are hot eggs, hot meats, make your own waffles, breads, cereals and yogurt. And to drink: coffee, tea, milk and a variety of juices. I made myself two breakfast sandwiches with hot eggs and hot bacon. Gabriel made himself some waffles and couldn't resist some bacon.
Overall, our stay at the Comfort Suites Kelowna was very comfortable and enjoyable.

Of the four days we were in Kelowna, Gabriel had two of those days off, so we were able to check out the Okanagan Lavender & Herb Farm, a beautiful farm property with sweeping views of Okanagan Lake. I loved walking around the gardens, smelling the different lavender and listening to the buzzing of all of the honey bees. Like the name states, there is also a large variety of herbs grown on the property.
We enjoyed walking around the hedge and grass maze, as well as writing wishes onto the wishing tree.
Did I mention that you can pick your own lavender? Gabriel and I each cut a bunch of the darker lavender, which is better for drying.
The views from the patio on the second floor of the main building are breath taking. We had some tasty lavender infused treats, including lavender lemonade and a locally made sourdough and cheese at their Small Bites Cafe.
Also located in the main building is the boutique, where they sell products that they have produced from their harvested lavender and herbs. You can find bath & body, culinary and comfort & home products for sale in the boutique. Of course, I had to pick up some lavender essential oil for our little moon and myself and a bottle of lavender syrup before saying hasta luego.
The Okanagan Lavender & Herb Farm  is a very peaceful and calm place. I really can't wait to go back.
We were also able to visit two wineries and a winery boutique:

Summerhill Pyramid Winery: I was pleasantly surprised to learn that Summerhill is committed to producing 100% organic wine! Their famous pyramid was being renovated when we visited, so we didn't get a tour. Summerhill wine is made in the most unique winery in the world.
Mission Hill Family Estate: WOW. Probably one of the prettiest places I've ever been to in my life. The architecture, views and outdoor amphitheatre are spectacular. I bet the food is too, but we didn't eat here. We had our first wine tasting experience at the wine tasting bar, and it was good. Although the wine tasting bar was packed, the customer service the sales associates provided was great. You can also book private tastings.
There are also 42 life size works of acclaimed Icelandic artist Steinunn Thórarinsdóttir throughout the property. Beautiful art with an amazing natural backdrop.
Calona Vineyards Winery Boutique: This is BC's oldest winery location. It offers wine tastings of the largest selection of Sandhill wine, including many rare and hard to find small lots. The experience here was amazing, Ken from Sandhill wines was so descriptive and even helped us with pairing wines and food! My favorite was the icewine, so delicious. We also brought home a bottle of the Wayne Gretzky Chardonnay and Merlot.
This trip to Kelowna was a very memorable one, as it was our very first as a family. During this trip there were many firsts for us; Luna's first time in a pool, Luna's first time in a lake, and our first winery tour/tasting. Kelowna is definitely a family friendly town to visit, ago shouldn't deter you from exploring this beautiful place. I look forward to visiting Kelowna during the Fall/Winter so we can experience Kelowna a different way, snowshoeing perhaps?
Do you remember you first family trip? Tell me about it and relive those beautiful memories!
Besos y Bendiciones~