*Disclosure: I am part of the RBC Avion Holiday Boutique Blogger Campaign with Mom Central Canada and I receive special perks as part of my affiliation with this group. The opinions on this blog are my own.
My family and I decided to get some holiday shopping done early this year in order to avoid the big crowds and last minute rush. We ventured to the Port Coquitlam Mall to hit all the great shops. I thought we had planned ahead but the mall was packed with other shoppers who clearly had the same idea! The Holiday cheer was high, however, halfway through our shopping we really needed to take a break from the busy crowds.
Luckily, I had my Avion card with me! This meant that we had the privilege of being able to relax in the exclusive family friendly Avion Holiday Boutique located on the second floor of the mall. Upon arrival, we were greeted by a couple of friendly faces welcoming us into the comfortable holiday lounge.We were happy to see there were a lot of places to sit down and relax.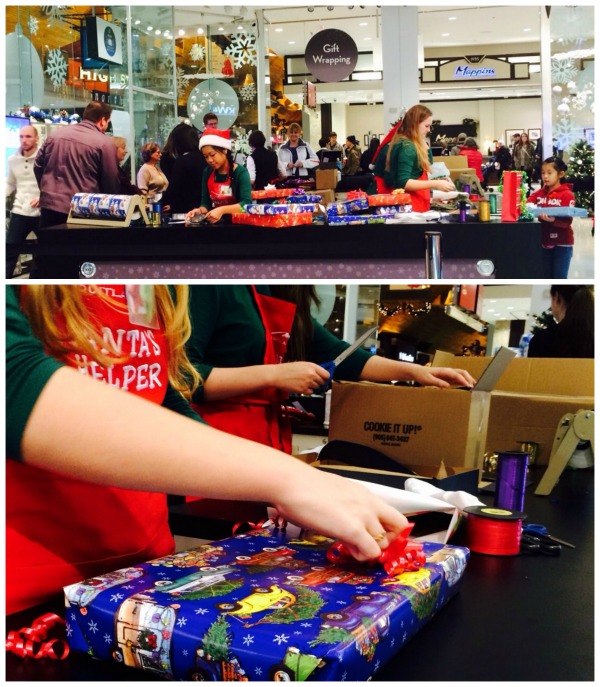 But first, I made my way to the gift wrapping table. Gift wrapping is a perk (free) if you are an Avion card holder. If you are not an Avion card holder, you can get your purchases wrapped for a very reasonable price, as low as $2 per gift. They even had different ribbons and paper to choose from. I was excited to get both my shopping and wrapping done in the same day. After having my gifts wrapped, we took a seat at the cafe where they were offering complimentary food and drinks. I ordered a dark coffee and a round of peppermint hot chocolates which were topped with adorable red and green sprinkles and a generous spoonful of whipped cream, yum! The girls making our drinks were so hospitable and the cookies they were handing out were to die for, I could have sat at that coffee bar forever.
After getting our blood sugar levels back up, we decided to take a rest in the comfortable seating area. There was a great selection of children's books and magazines to keep us entertained until we were recharged and ready to take on the holiday crowds.
The Avion lounge also offers coat check. Having the option to take those bulky winter jackets off our hands to free them up for more shopping was fantastic. And on top of this, they offer a valet parking service! No more circling around the parking lot trying to find that perfect spot.
I'm so happy to have been able to recharge and relax with my family in the comfort of the Avion Lounge amidst the hustle and bustle of the Holidays. It made our shopping trip a breeze. We will definitely be back to take advantage of this great space during the Holiday season. Thanks Avion!