I received a free canvas photo print from CanvasPop. The opinions expressed here are my own.
When I was approached by CanvasPop and offered a free  canvas photo print to see for myself the amazing quality and product provided by CanvasPop I couldn't say NO! I immediately knew I had the perfect high resolution photo to convert into a high quality canvas photo print.
The process of ordering a canvas photo print is very quick and easy due to the fact that you get your own personal designer to give you advice and help get your order perfect. The CanvasPop designer asks you questions you may not have even thought of, like, if you have any preferences for the wrapped sides of the canvas? CanvasPop can do it in either black or white, a custom colour of your choice, or could do a photo wrapped edge where we use the outer edges of your image for the wrapped sides. There is also the option of doing a mirror wrapped edge if you want the look of the photo wrapped edge without losing the outer edges of the image to the wrapped sides. And you just let your CanvasPop designer know what you prefer and they'll set it all up for you.
After sending over my high resolution photo and my preference for the wrapped sides of the canvas to my CanvasPop designer, he  set the order up for me, and emailed me a digital proof  for a review and approval. I really appreciate receiving a digital proof because this way, if when you see the proof you want to change anything on it, or change the picture, you can just let your designer know and they will adjust it for you. CanvasPop will not send anything into production until you approve the design. CanvasPop is not only known for their high quality canvas photo prints, but their amazing customer service. CanvasPop goes above and beyond to make sure that their customers enjoy the CanvasPop experience.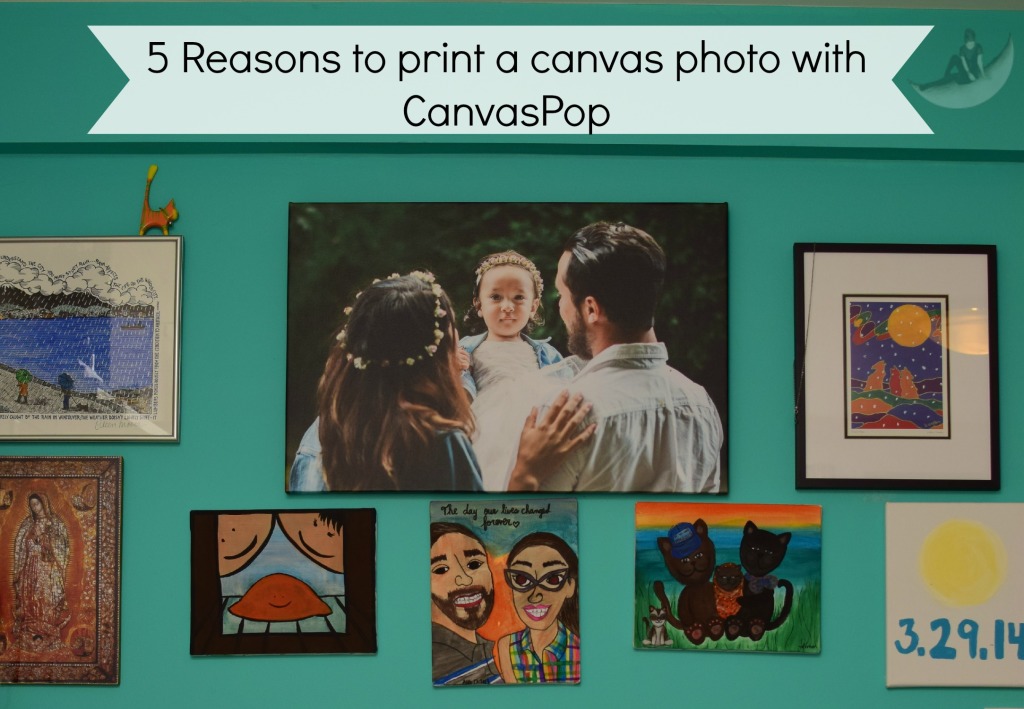 Once I approved the design, the order was sent into production, and CanvasPop had the print delivered to me within 10 business days. I was sent a tracking code via email, which allowed me to track my package.
My personal CanvasPop designer informed me to let him know what I think when I received the print, and to not hesitate to let him know if there's anything wrong with the print. All of
CanvasPop
prints are covered by their 100% satisfaction guarantee, so if there's anything wrong, they will fix it.
I was ecstatic when my CanvasPop canvas photo print arrived. It was everything I had hoped for. The image is vibrant and the overall quality is incredible. The thick canvas, perfectly folded corners and a sticker that is signed by the designer who handcrafted it to boot. The CanvasPop print comes ready to hang. I couldn't wait to hang our family photo in our bedroom. It is the perfect addition to Lunita's little gallery wall, that has different kind of prints and art that represent us as a family.
Below are the top 5 reasons to order a canvas print or framed photo from CanvasPop:
Highest quality canvas photo prints- CanvasPop canvas prints and framed prints are made with only the highest quality materials in the industry. They don't cut corners on quality.
Lifetime guarantee- This means either you love it or we'll fix it or we'll refund you. No small type, no excuses – just a promise that means you will love your canvas print — guaranteed.
Picture perfect-  The CanvasPop process ensures that you get perfect results optimized for any sized canvas, every time. CanvasPop skilled designers will expertly adjust contrast, saturation, resolution, sharpness… and more. They'll even remove red-eye all at no extra cost.
Free digital proof- Love may be blind, but if you want to see your canvas print before its made ask for a digital proof — it's free!
Handcrafted- Their canvas prints are handmade by real people. That means real eyes inspecting your image and real hands framing it with care.
CanvasPop is also obsessed with mobile photography, that's why they developed special techniques to print iPhone photos and any other mobile photography beautifully! They also allow you to print Instagram photos directly from Instagram.