In our house we love trying out new NATURAL and ORGANIC (actually natural, and not GREEN WASHED) products. Especially for Little Moon's bath time. So, I thought it would be a great idea to share some of our favourite NATURAL and ORGANIC baby bath products with you via reviews.
We discovered Taslie Skin Care when Little Moon was just a few months old, and have been using it consistently for almost a year now! 🙂
Taslie natural and organic skin care creates products that are gentle on the most sensitive skin. Taslie products are biodegradable and specially formulated to cleanse and moisturize with natural and organic ingredients. Taslie believes a fantastic product is as important as environmentally friendly packaging. Just take a look at their cute, fun recyclable and biodegradable packaging. Taslie products are recyclable HDPE bottles and soy printed labels.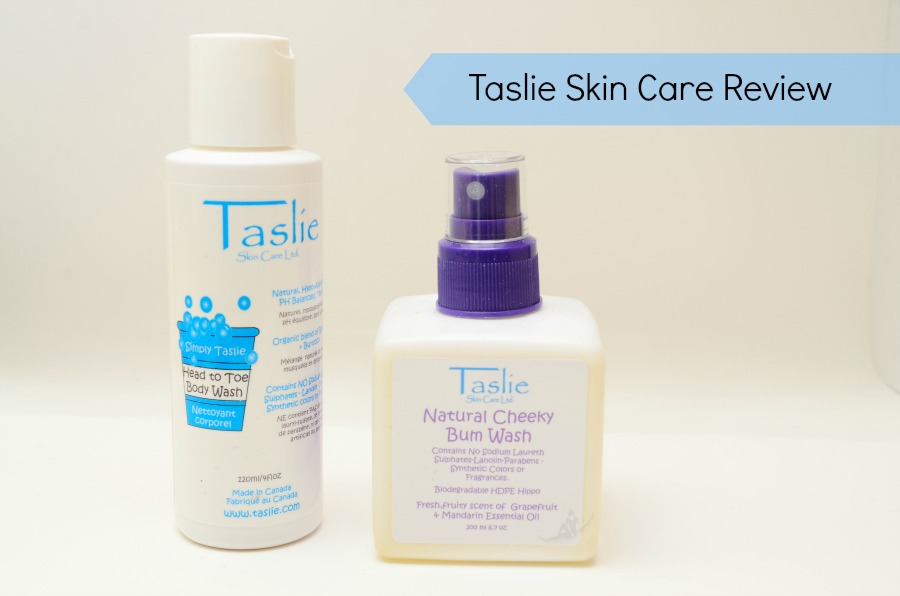 Taslie Skin Care products are natural, PH Balanced, Hypo- Allergenic and Tearless.
Taslie Skin Care does NOT contain: Sodium Laureth Sulphates, Lanolin, Parabens, Triclosan, Pthalates, Synthetic Colours or Fragrances. And last, but not least, they are NOT tested on animals.
Head to Toe Body Wash is one of our favourite bath products because it is a 3 in 1 product, it may be used on hair, body or as a natural bubble bath. We love the soft scent of mandarin and vanilla essential oil, which is so relaxing and gets Little Moon in the mood for bedtime. Taslie's Head to Toe Body Wash is specially formulated to cleanse and moisturize with natural ingredients. Gabriel and I like Taslie's Head to Toe Body Wash so much that we even use it sometimes too.
As some of you know, Lunita is in cloth diapers and we only use wipes when we are out and about. When we are at home, we usually have a spray bottle/cloth wipes for diaper changes or just wash her under the sink. I was excited when I saw that Taslie also makes a natural Cheeky Bum Wash, which is designed to gently cleanse the most sensitive skin in between diaper changes. All ingredients are natural and plant based and can be used to calm and soothe any skin irritations. Fresh, fruity scent of grapefruit and mandarin essential oil. This bottle, like the rest of the Taslie products are recyclable and biodegradable.
Taslie products are proudly made in Canada, eh! Which product would you be interested in trying out?