Babywearing with Luna was so much fun, I wore her everywhere. From wearing her at home in our MayaWrap (ring sling), to taking her to see La Virgen de Guadalupe (Mexico City) in our ErgoBaby. That's not all we got to experience in our babywearing journey with her! We loved wearing her in our traditional rebozo, and exploring Las Ruinas de Copan and other Honduran marvels in our Tula (SSC). Now, a couple years later, with our Sol, Gabriel and I are continuing our love for babywearing by broadening our horizons and trying out other baby carriers and brands too. And this week, I'm talking all about the Stretchy Wrap featuring Happy Baby Wrap. 
What is a Stretchy Wrap?
A stretchy wrap is typically made of a soft knit fabric that has some stretch and elasticity to it. Hence, the name "Stretchy" wrap refers to how the fabric stretches when worn.
Why Use a Stretchy Wrap?
A stretchy wrap is the perfect introduction to wrapping babies. It's perfect for the newborn stage as there's nowhere else baby would rather be than up, close on mama; from hearing mom's heartbeat, feeling her warmth and smelling her scent (milk?). Stretchy wraps, like other baby carriers let you be hands free to get things done while keep baby close.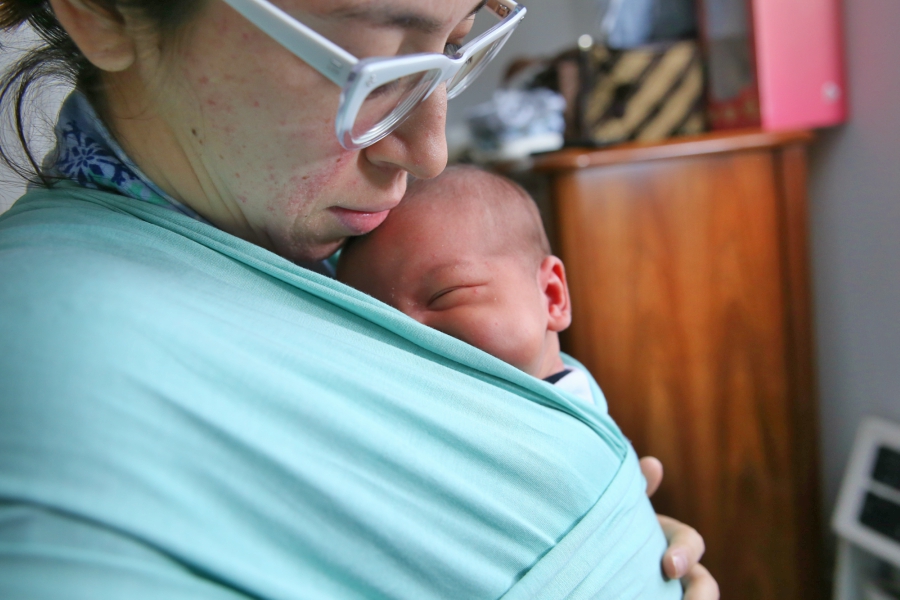 Happy Baby Wrap
Stretchy wraps are fairly new to me, as I started using them for the first time with Lucas when he was just a couple weeks old. So, it's been a little over a year of wearing him in the Happy Baby Wrap. Ever since then, I've been hooked. I don't know if I can really explain the feeling of wearing your newborn in a stretchy wrap. But, I'll try. Since the stretchy wrap molds so perfectly to baby and wearer, it feels as if baby is still a part of you. Just so snug and cuddly.
One of the perks of babywearing is that it allows for discreet nursing. And the upright position baby is in while being worn helps reduce colic/acid reflux.
Fabric:
The Happy Baby Wrap is lightweight and breathable. It's also great for layering; when Lucas was only three months old, we went up to a local mountain and I wore him all day while we has in his bunting suit. No over heating, for either of us.
Happy wraps are made with CERTIFIED organic bamboo or tenel with 30% organic cotton blended in. This is important. Wraps made with 100% of anything like modal or bamboo, aren't as supportive.
Because it's made of certified organic bamboo, it's extra soft. Perfect for newborn skin.
Since the fabric is very long, I usually leave the house with my Happy Baby Wrap already on, especially if I know I'm going somehwere with dirty (or wet) floors since the fabric does tend to drag on the floor when adjusting.
One Size
It's a one size fits all carrier; for baby and wearer because it is fully adjustable without any buckles or rings. No inserts needed for newborns, and will ergonomically support your baby up to 25 lbs.
Body Type Friendly
Yes, it's body type friendly.
Care:
Happy Baby Wraps include a small carrying bag for storage to protect your wrap! I wish more baby carrier companies included small carrying bags. It is machine washable.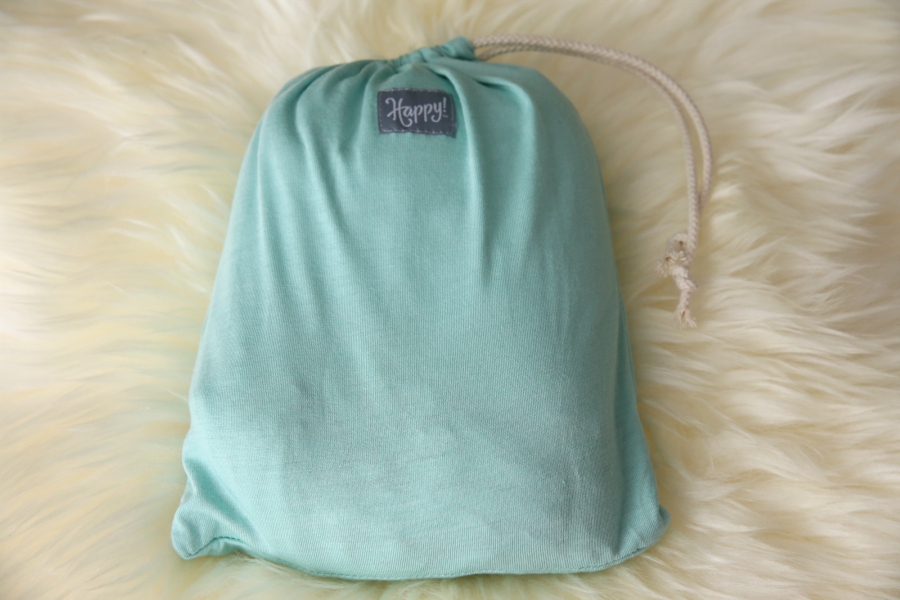 These beautiful Happy Baby Wraps are stylish, comfortable, and fully adjustable. They are 100% made in the USA and available in 14 different colour/prints.
Have you worn your baby in a stretchy wrap before?  If you are interested in babywearing, check out the other babywearing posts in this series:
MehDai feat. Didymos (DidyTai)
Woven Wrap feat. MamanKangourou