I remember when baby food only came in bulky glass jars and cup. Parents weren't able to give their baby/toddler the glass jar full of puree, because of 1) glass is breakable and 2)what a mess. Baby food in glass jars is a thing of the past!  Baby food has taken a a new shape; flexible, resealable pouches are quickly replacing traditional bulky glass jars and cups.
Resealable pouches are very convenient, they allow parents and babies a bit of independence and freedom when it comes to feeding. We use food pouches when we know we are going to be out for a couple of hours. Oh, and we love to use them during road-trips. Pouches come in a multitude of brands, flavours, stages and sizes, but they ALL have on thing in common: A sharp, rigid, plastic spout that their food dispenses from.
Although we love our pouches, we often hesitated to give Lunita one because she would squeeze the pouch and food would EXPLODE in every direction and when she was teething, she would bite the spout and hurt her gums. So, we found ourselves holding the pouch while she sucked the food, in order to regulate the mess. More than often pouch feeding results in: a crying child, a mushy mess, wasted food and wasted money.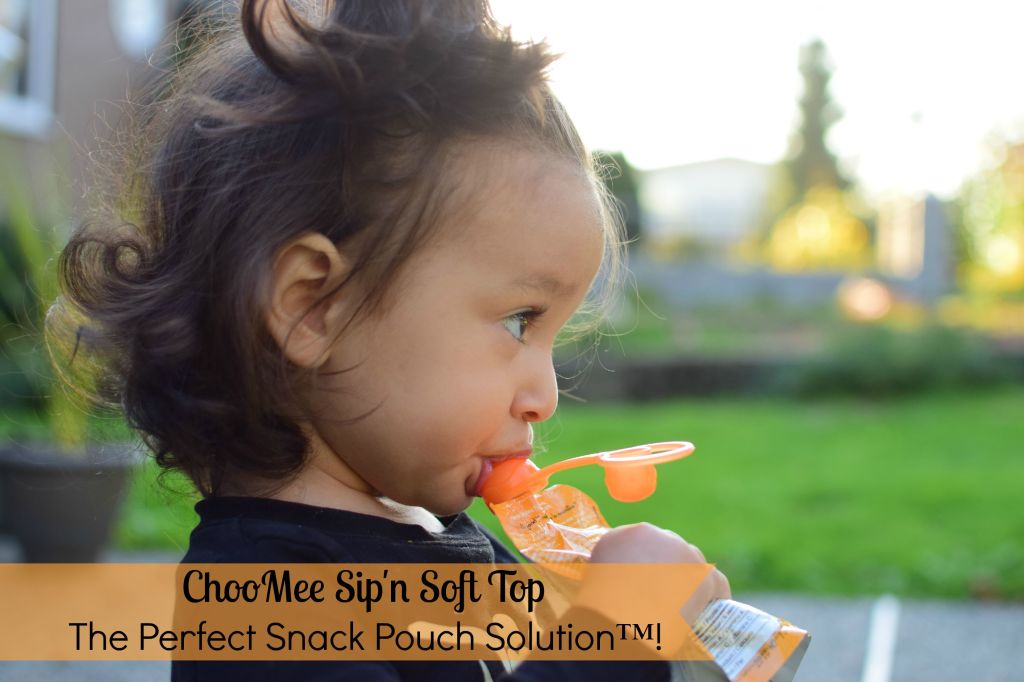 That is until I discovered ChooMee Sip'n Soft Top. ChooMee created the first and only pouch top providing flow control and cap. The Sip'n soft top is a chewy silicone valve used for pouch feeding which provides multiple features and critical benefits for both baby and parent. Honestly, the ChooMee Sip'n Soft Top has probably been one of my favourite baby product finds because not only has it made my job a little easier, but it has helped Little Moon's independence. I am no longer having to hold the pouch, or hover over her when she holds the pouch on her own because I know that there won't be any mess. Ugh, I remember how she would freak out when I would hold the pouch because she wanted to hold it all on her own, but I wouldn't let her because she would squeeze the pouch and the food would just go everywhere…stains on her clothes, wasted food and money.
Luna also enjoys chewing on the Sip'n Soft Top, especially when she is teething, so it serves as a double purpose. It is BPA and Pthalate free, so no need to fret.
ChooMee Sip'n Soft Top easily attaches to food pouches to ensure that you maximize  pouch performance. Make sure to push down until you hear a "click" to ensure the cap is on securely, or you can have a mess on your hands. SIP IT: Attach to pouch to protect child's mouth and control the flow of food. CAP IT: Fold-over cap to securely close your pouch when baby feels full. Can save for later.STRAP IT: Wrap the strap around your pouch top to easily pair them on-the-go.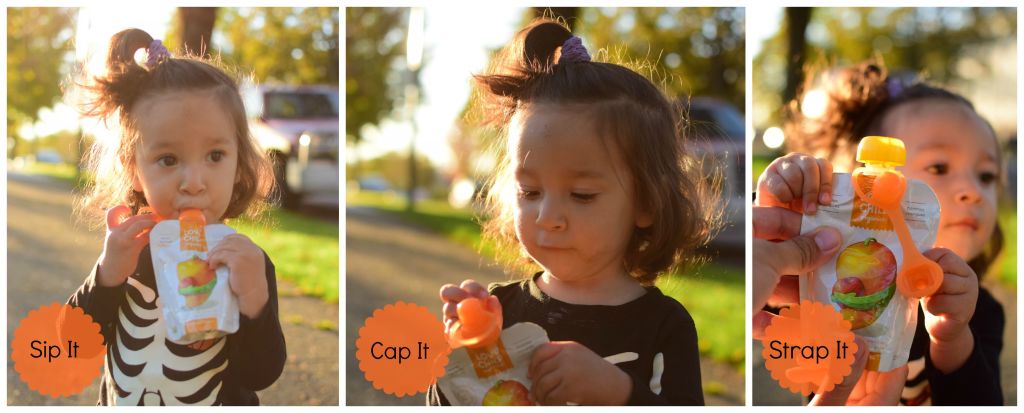 Forget the chewing and squeezing that leads to spilling and screaming, ChooMee is The Perfect Snack Pouch Solution. 4 key benefits:
Protect Mouth: The Sip'n features a  chewy soft silicone valve designed to fully cover the rigid plastic spout of  a pouch. Finally baby can comfortably chew away while snacking.
Prevent Spills:  The Sip'n includes a critical flow control valve that prevents the mess and keeps food within pouch where it belongs, until there is pressure from sipping (Sip'n!)
Maximize Nutrition:By controlling pouch flow and preventing spills, the Sip'n not only minimizes pouch waste but can also maximizes baby's caloric intake. Every healthy sip counts and using a Sip'n soft top means more food makes it to their little mouth.
Promote Independence: Transitioning from milk to solid food is a significant stride toward independence. A heavy weight is lifted when baby no longer depends on mom for each individual bite. Our Sip'n eliminates pouch frustration and allows babies to hold and eat on their own.
ChooMee Sip'n Soft Top is reusable. It's super easy to clean with soapy water. It's also resistant to both food odors and colour stains, so you don't have to worry. The Sip'n Soft Top can also be purchased in a convenient travel case and is available in 4 different colours, make sure to check out the different Sip'n Soft Top packs available at ChooMee.com.
I'd love to know whether or not you have heard or used of ChooMee Sip'n Soft Top before.