The Vancouver Inspiration Pass is a free arts, culture and recreation pass program that opens the doors to exciting experiences and fun things to see and do in the City, for free for Vancouver residents, aged 14 years and older. You can borrow a pass for two weeks at any Vancouver Public Library; just don't assume it'll be right away, the wait list is about TWO years, seriously.
As a Vancouver resident, I know how expensive living in this beautiful City can be; this includes getting out to visit many of the paid attractions it has to offer. So, the Vancouver Inspiration Pass is a great way to increase community and inclusivity- regardless of socio-economic status. The pass may be redeemed for families and groups of up to four people.
After a two year wait, it was finally our turn to take the Vancouver Inspiration Pass out for a roll. I had received an email confirming the dates that my pass would be valid. Note, the pass is valid for a two week period, and lost passes or check-out receipts can't be re-issued. In order to get the most of our pass, I confirmed venue hours and created an itinerary for the two weeks based off that. Unfortunately, some of the activities I was really looking forward to, like the Goh Ballet, Vancouver Symphony Orchestra, Choirs, and Vancouver Opera were not in season.
We really took advantage of our two weeks with the Vancouver Inspiration Pass, and did a couple activities a day. Some of my favourite things to see and do with the pass were: The Museum of Anthropology, The Vancouver Art Gallery, Beaty Biodiversity Museum, Bloedel Conservatory, VanDusen Gardens, Maplewood Farm, Science World at Telus World of Science, and the Vancouver Aquarium.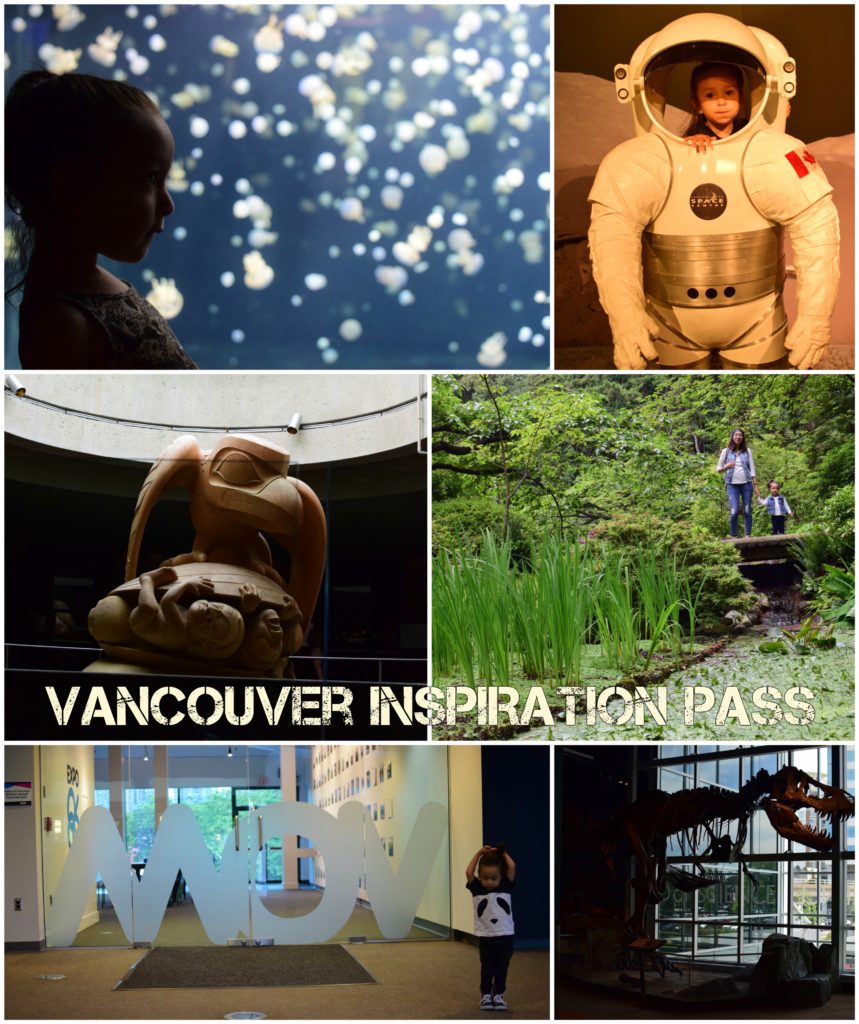 We were also thankful that we were able to explore the H.R MacMillan Space Centre for FREE via the Vancouver Inspiration Pass because for lack of better words, it was lackluster. Especially, the "Space Centre," very out-dated and definitely not worth the $18 entrance fee. Un robo!
The best way to get the most out of the Vancouver Inspiration Pass is to see things in groups, as we did. For example, make the most out of your day, and see all the attractions in a specific area, like UBC for example. At UBC, you can visit the MOA, Beaty Biodiversity Museum, Nitobe Memorial Garden and the UBC Botanical Garden. Another day we visited the Bloedel Conservatory (at Queen Elizabeth Park) and VanDusen Botanical Garden, where we had a beautiful picnic. The pamphlet that you are given when you sign out your Vancouver Inspiration Pass has a list of the attractions and a detailed map to help you plan ahead.

List of Attractions:
Beaty Biodiversity Museum
Bloedel Conservatory
Chinese Canadian Military Museum
Chinese Cultural Centre Museum

Dr. Sun Yat-Sen Classical Chinese Garden

Goh Ballet

 H.R MacMillan Space Centre

Jewish Museum & Archives of BC

Maplewood Farm
Museum of Vancouver
Nitobe Memorial Garden
Roedde House Museum
Science World
UBC Botanical Garden
UBC Museum of Anthropology
Vancouver Aquarium
Vancouver Art Gallery
Vancouver Bach Choir
Vancouver Maritime Museum
Vancouver Opera
VPB Fitness Centres
VPB Ice Rinks
VPB Pitch & Putt
VPB Swimming Pools
Vancouver Police Museum
Vancouver Symphony Orchestra
Vancouver Welsch Men's Choir
VanDusen Botanical Gardens
If you are a resident of Vancouver, the Vancouver Public Library's "Vancouver Inspiration Pass" is a great way to see many of Vancouver's top attractions for free. Make sure to put your name on that wait-list as soon as possible.