Growing up, my parents both worked rotating shifts, so one was always home with us before and after school. And as soon as I was old enough to stay home alone, and babysit my siblings, they started working almost same schedules to be able to spend more family time together. When my parents were away, I had some difficult decisions to make, like what to feed my younger siblings, how to entertain them, etc. Hahaha, I don't know why, but watching Disney Channel's Tangled: The Series, Queen For A Day reminded me of that experience. Not because I felt like a queen, but because Rapunzel was also faced with some tough decisions, LOL.
Anyways, I've really been into making Disney DIY's this last year since it's a great way for me to relax, show Luna that it's fun to and "cool" to be creative. Plus, it's a great bonding experience for the both of us. She loves it when I make things for her, especially if she can show case it in her room.
So, to celebrate the release of Rapunzel: The Series, Queen For A Day on Disney DVD, December 12th, I'm making a cute art piece to display in Luna's room!
Synopsis: The fate or Corona hangs in the balance when Rapunzel faces the ultimate test in Queen For A Day! When the King and Queen leave town, Rapunzel is set to lead. However, when a blizzard threatens to destroy Corona, the Princess is faced with some tough decisions.
TANGLED: THE SERIES. QUEEN FOR A DAY DIY DECOR
Materials Needed:
White construction paper
Turquoise construction paper
Felts (Purple, Yellow, Black).
Paint (White, Green, Black).
Yellow Tissue Paper.
Glue.
Frame.
Steps:
Draw Rapunzel in the middle of the white paper in pencil. Then go over it in black felt.
Choose a fun quote, Rapunzel loves adventures and so does my daughter. So, "New Adventures Await" was perfect! Write it out.
Cut out Rapunzel and the quote separatley.
Colour In.
Paste Rapunzel and quote onto turquoise paper.
Cut out fun shapes using white paper to add to turquoise paper.
Using white paint, draw some dots and lines around Rapunzel and the quote.
Add tiny pieces of yellow tissue paper.
Your peice is complete and you can frame to hang on the wall.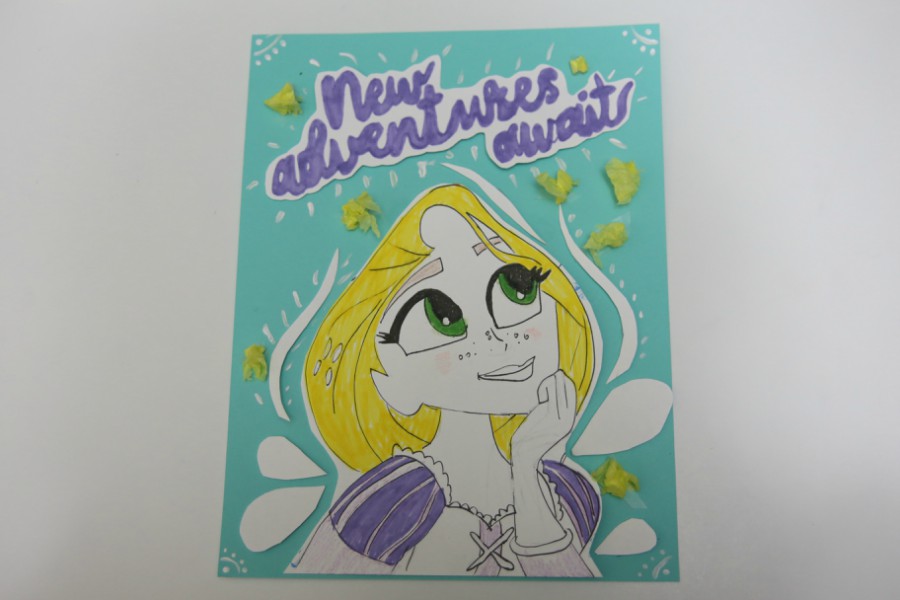 Rapunzel: The Series, Queen For A Day includes the first episode plus four bonus shorts. Bring Queen For A Day home on Disney DVD December 12th, just in time for holiday gift giving!