DISCLOSURE: I received this product for my editorial consideration and I decided to review it, based on my own experience and opinions.
Our little moon has started teething, which means she is drooling and always putting stuff in her mouth, whether it be her fingers, Sophie, or anything she can get her tiny hands on.  On a typical teething day we can go thru several bibs and toys, which can be a bit of a hastle because some of the bibs aren't very absorbent and get her clothes wet too. And the toys, well they happen to fall every once in a while, especially when we are out an about, so they get put away since they are dirty.
So when I heard about Cheeky Chomper's Necherchew I was excited, it offered a practical solution to some of our teething problems.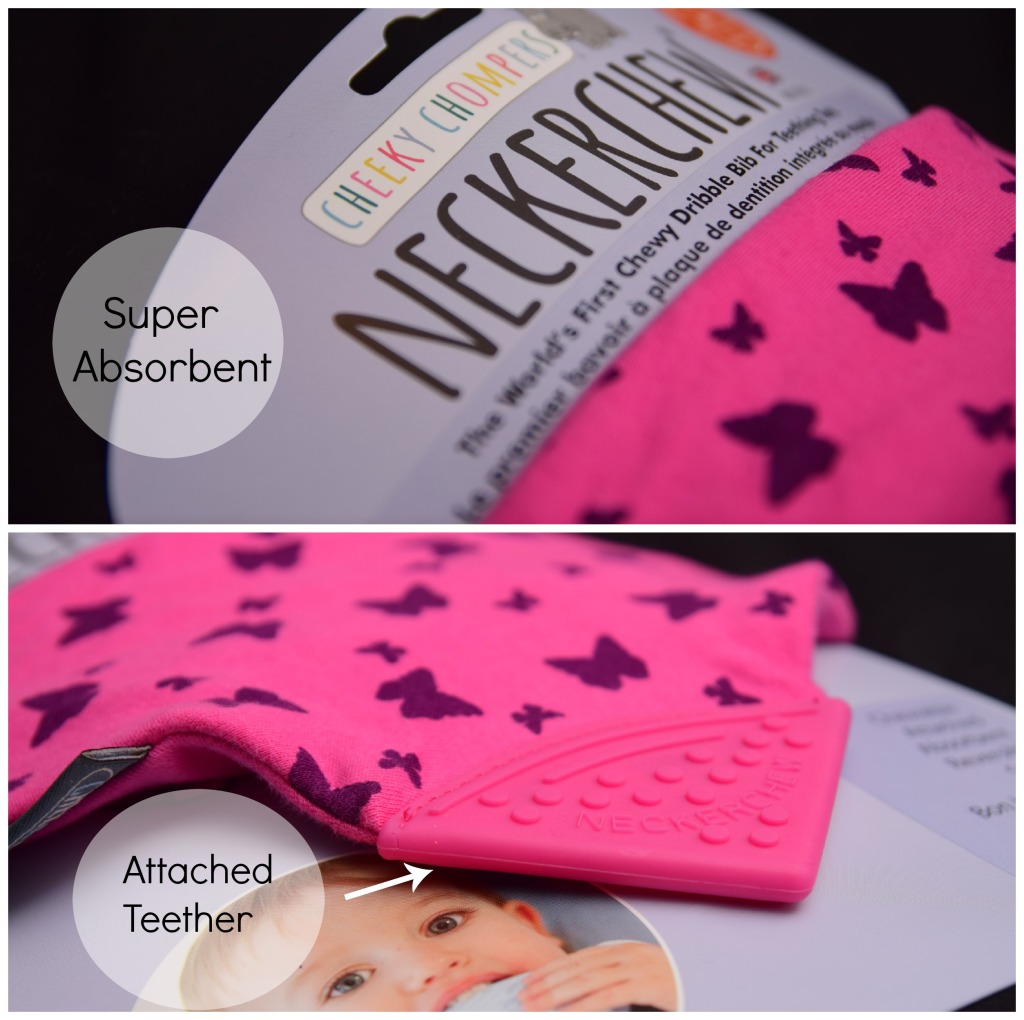 The Neckerchew is an awesome 2-in-1 product, a drool bib with a teether attached to the bottom! Now I don't have to worry about our little moon dropping, dirtying or loosing her teethers.
I wondered how Lunita would feel about her Neckerchew, and as soon as I put it on she was all giggles and grabbed the teether right away and put it right into her mouth. Moooove over Sophie, hehehe.
Besides being super cute, the Neckerchew is also very stylish, it comes in a variety of prints and colours. Oh, did I mention that it is reversible? I like that the Neckerchew is not shaped like your typical bib, it's triangle shaped like a bandana, super fashionable! Our print is "Flutterby" with purple butterflies on one side and a solid pink reverse. The fabric is 100% cotton, soft and super absorbent, Luna can wear one from 10am-5pm and the drool wont soak thru the three layers, which totally impressed me. It also dries really quickly. It's easy to clean, and after many washes, the Neckerchew is still in great condition!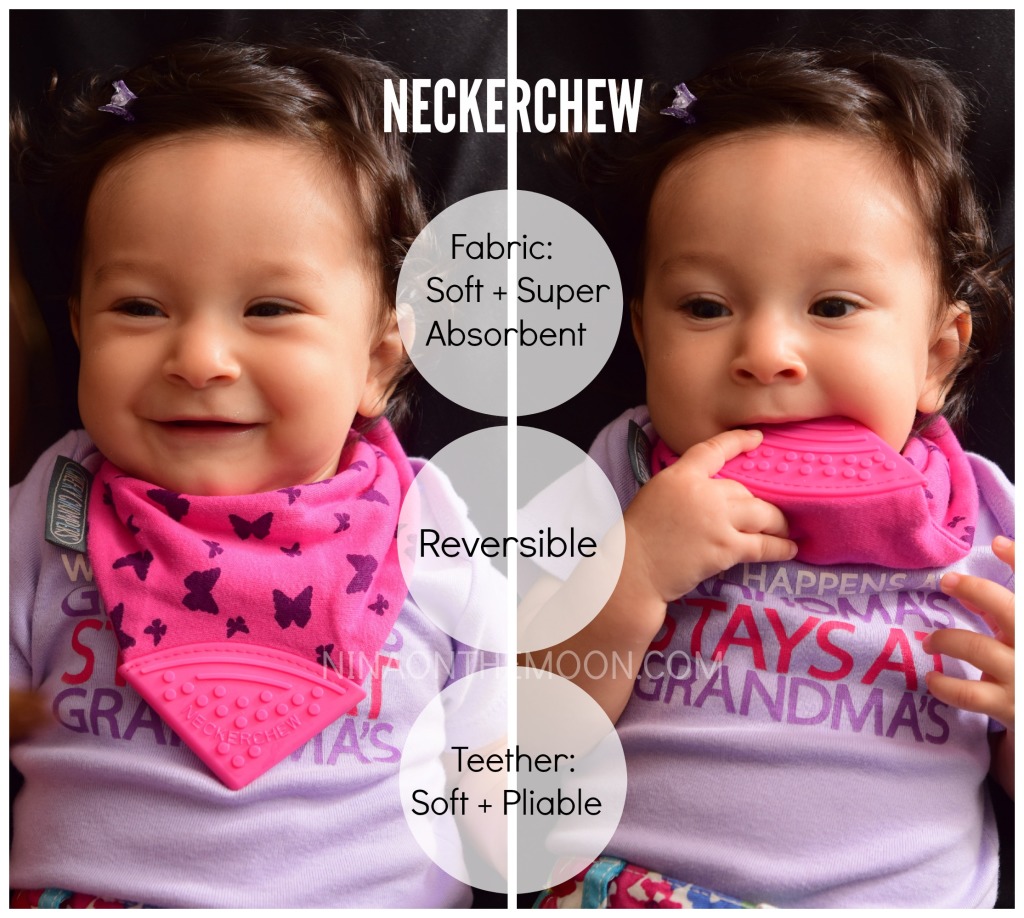 One of my favorite things about the Neckerchew is the teether sewn onto the bib! What a brilliant idea, a teether that the baby can't drop, dirty or loose. Awesome, right? The teether is surprisingly soft, pliable and durable. The teether is also made of silicone that doesn't flake or peel and it's BPA free, so I feel at ease knowing that my little moon can teeth safely. It has texture that helps baby's teeth brake thru.
The Neckerchew grows with baby, it is one size with two adjustable snaps and is suitable from 2 months to 2 years. The snaps are strong enough so that Lunita can't pull it off herself, but easy for an adult.
We are so happy with our Flutterby Neckerchew because Luna can grab, chew and drool without worrying that her teether will fall or her shirt wet. I've already added a couple more to our collection, you can pick them up at ToysRus.
What do you think about the Neckerchew?!
Enter to WIN ONE NECKERCHEW!