DISCLOSURE: I received this product for my editorial consideration and I decided to review it, based on my own experience and opinions. All words are 100%  honest and my own.
This particular Kaia is part of the special edition Maxi-Cosi "Bohemian Blue"  Collection.  For me, it was love at first sight with the Kaia Bohemian Blue; it has Nina written all over it, playful, free spirited, adventurous and happy.  The Bohemian vibe quickly got my attention, you can't help but smile when looking at it, right? T Maxi-Cosi Kaia is a light weight umbrella stroller that is perfect for every family. It can be used from birth with an infant car seat up to 50 lbs;  it actually comes with the car seat adaptors for the Maxi-Cosi Mico and Prezi.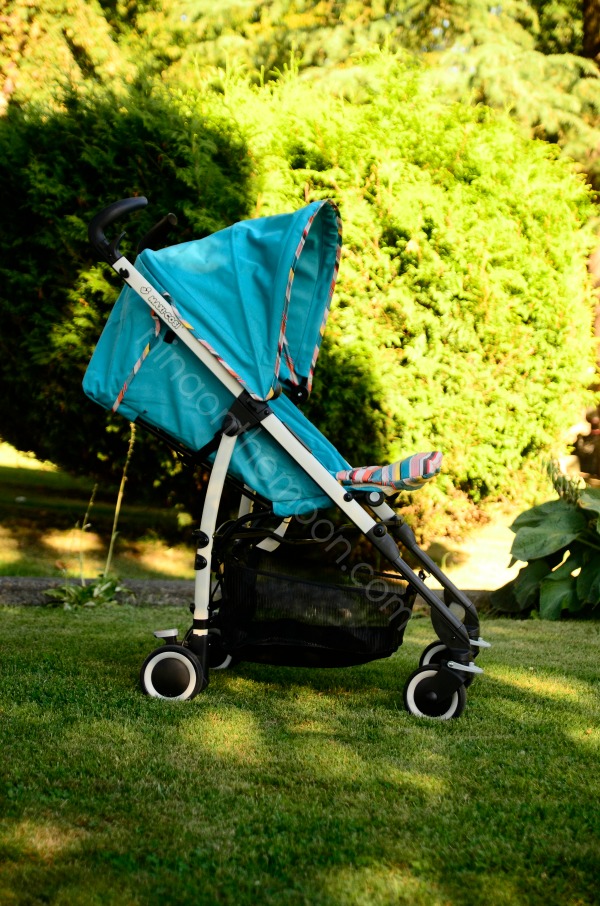 Maxi-Cosi Kaia stroller is very easy to assemble, you simply insert the wheels into place until you hear a click. It took me about a minute to insert all four wheels. The wheels are small and made out of hard rubber, phew, no need to pump here. The front wheels swivel and have a lock option as well. I like the "brake" system on the Kaia, it's very easy to use. You gently step down on the "red" to lock the rear tires and on the "blue" to release the lock.
Storage
The basket is large for an umbrella stroller, it easily fits my large diaper bag. I actually managed to put some groceries in their when I went out the other day.  The basket is removable (snaps) for washing, which is awesome, because we all know how filthy these baskets can get! The Maxi-Cosi Kaia stroller is a convenient stroller; I use it for walks, running errands, and even shopping. It is very smooth and easy to steer. I've tested it out in my local grocery store where the aisles are tight and can confidently push and steer with one hand, without worrying about bumping into people or the wall/aisle.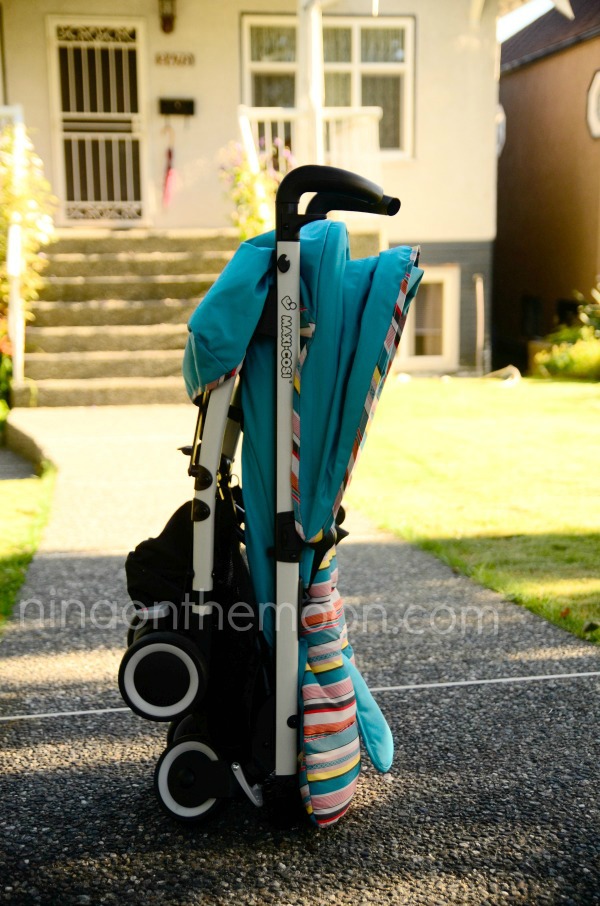 I also like that I can quickly and easily fold (and unfold) the Kaia up to either put away for storage or into our car's trunk for outings. What pleasantly surprised me was that the Kaia not only folds compactly, but it also stands upright. This is perfect for my family because we live in a small space and need all the extra room we can get. The Maxi-Cosi Kaia stroller fits right into our small jacket closet.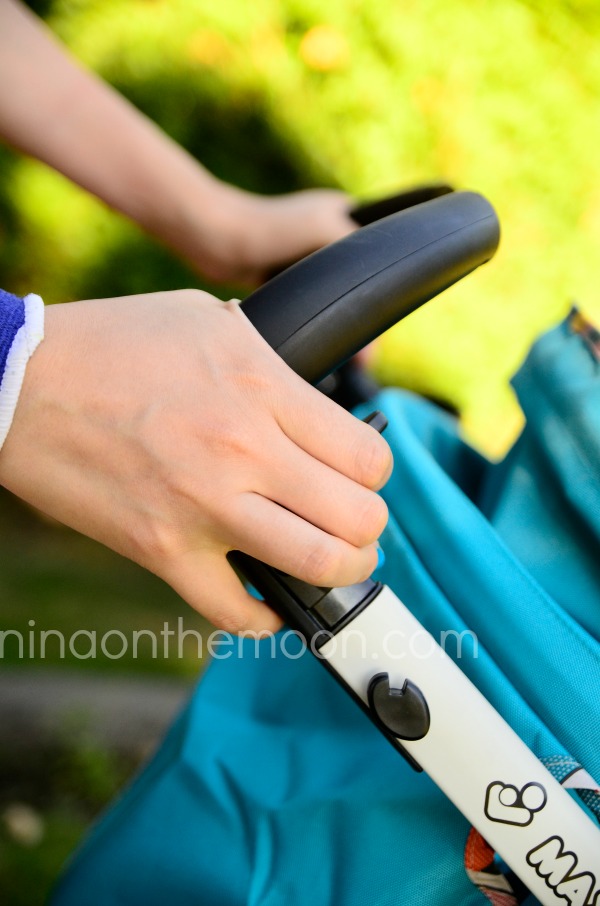 So, just how easy is it to fold? First, you must unlock the frame by lifting a lever in the back with your foot. Then pull two levers (one located on each handle) and push down until Kaia folds and you hear the lock.
Easy Cleaning
The Kaia has several parts that can be removed for easy cleaning: (1)Canopy, (2) Straps, (3) Bohemian Blue (striped) Cover, and (4) basket. Once you remove the seat cover, a natural beige seat is revealed. The Kaia has a multi position recling seat, but does not recline all the way flat, so you can't use it for a newborn (must use carseat adaptor). To recline the seat, you can use one hand with the strap system, but in order to sit back up, you must use both. The leg rest is adjustable, perfect for my little one. It has a 5 point padded harness system. The buckle is a little hard to buckle/unbuckle, I have to use both hands.
Convenience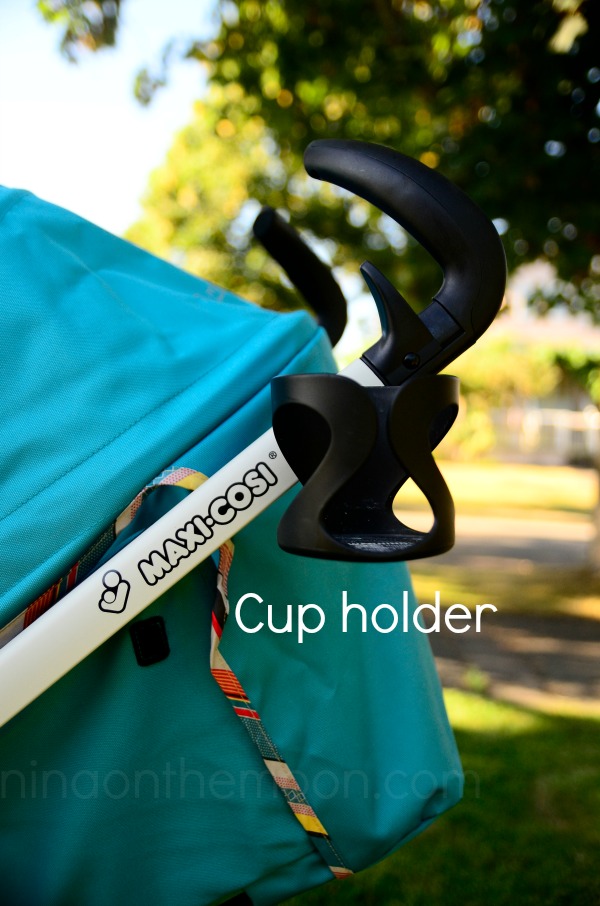 A cup holder is included with that Kaia, which was a wonderful surprise because most strollers don't come with one. You can insert the cup holder on either side of the handle bars, and switch sides too! It fits my coffee tumbler and water bottle. I especially like that it does not move/tip over. Bohemian Blue, the unique collection, inspired by hand-crafted items, is also available on Maxi-Cosi's popular Pria 70 and Mico AP. Make sure to check out the rest of the collection on  Maxi-Cosi.com