This is part of a sponsored campaign. However, all opinions expressed are my own.
Food is fun, whether I'm  the one doing the cooking/entertaining, or enjoying a delicious meal at a restaurant. Food allows you to connect with yourself, family, and friends and create some long lasting memories. There are even moments where your love for a certain type of food allows you to meet like-minded people and make connections.
In a couple of weeks, Chef Matt Dean Pettit of Toronto's Rock Lobster Restaurants, in partnership with Samuel Adams beer, will be travelling to Vancouver, B.C., to collaborate with three talented chefs at their respective restaurants, in what has been dubbed as  The Ultimate Lobster Experience. It is no surprise that Chef Matt Dean Pettit is a part of The Ultimate Lobster Experience since he is the author of THE GREAT LOBSTER COOKBOOK.
Chef Matt Dean Pettit  will be collaborating with chefs from YEW seafood + bar, Jamjar Folk Lebanese Food, and The Watershed Grill. Each will craft a unique menu alongside Chef Pettit that highlights the fresh ocean bounty from the Pacific Coast and in particular, showcase the delicious creations lobster can offer us on a plate.
There is a growing connection between food and Samuel Adams Beer, and that events like The Ultimate Lobster Experience pave the way for collaborative, community-driven experiences for foodies.
The Ultimate Lobster Experience kicks off on November 2nd with the first event at YEW seafood + bar. Expect a lavish array of cold and hot sustainable Oceanwise – approved seafood items prepared by Chef Ned Bell and Chef Pettit.  The 5 dishes also include 2 Samuel Adams beer pairings.
For tickets, contact HERE.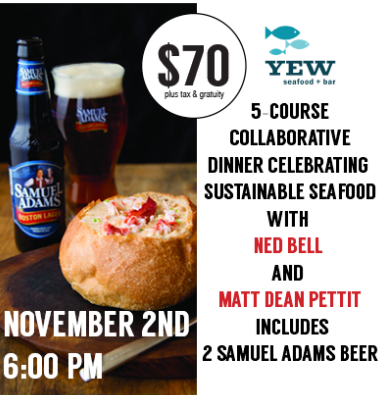 Over at Jamjar Folk Lebanese Food, a celebration of seafood will be in full-swing on November 3rd. Traditional Lebanese food will be given Chef Matt's infusion of lobster-love.  The evening will get spiced up with a 4-course tasting menu.
To purchase tickets, contact jamjaronthedrive@gmail.com or phone 604-252-3957.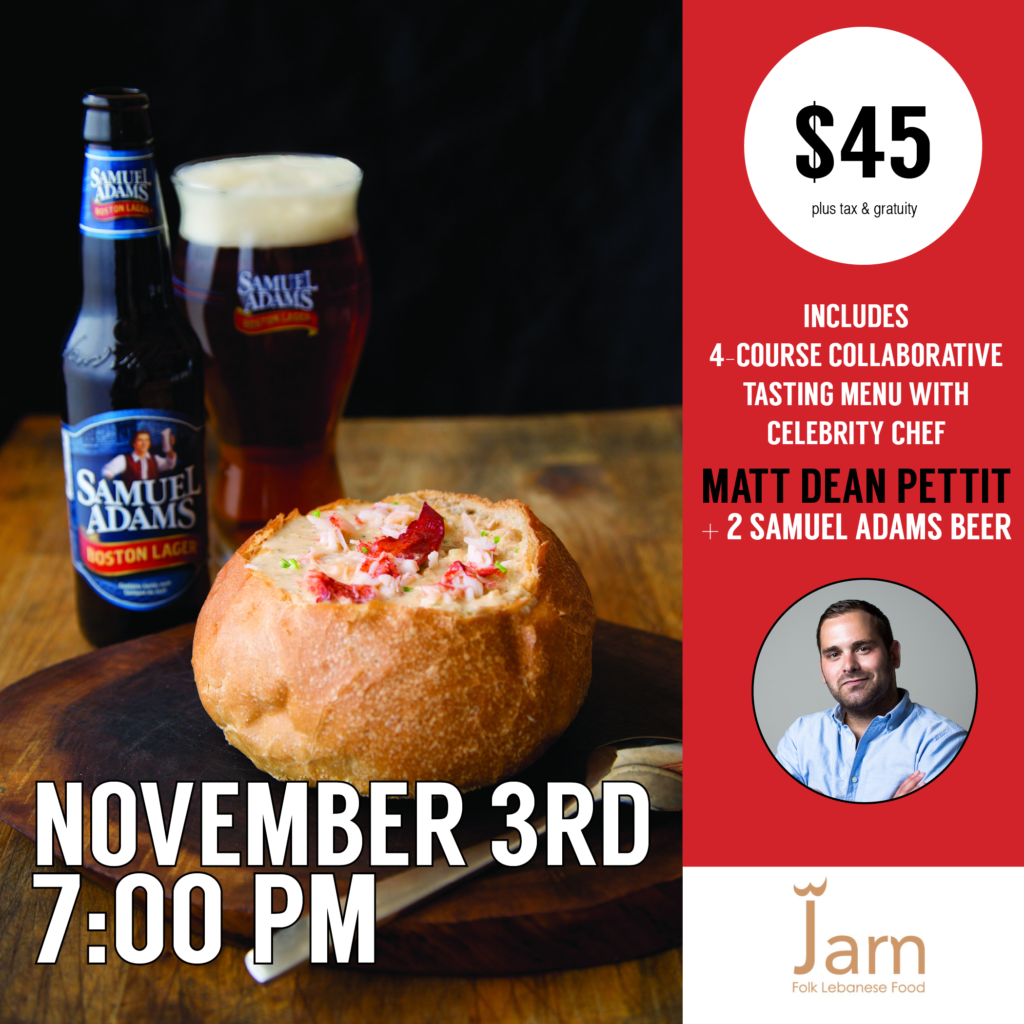 The whirlwind cooking tour in Vancouver will end on November 4th. Steps from Squamish River, soak up the amazing waterfront vistas with a 3-course meal and 2 Samuel Adams Beer to pair with at The Watershed Grill. Lobster, along with a bevy of seafood wonders will be dreamed up differently, so arrive hungry!
To purchase tickets for this event, please call 604.898-6665.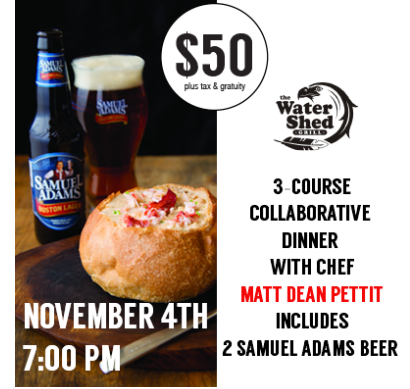 Chef Matt Dean Pettit's The Great Lobster Cookbook is available for purchase at each event for only $15. I look forward to The Ultimate Lobster Experience at Jamjar on Commercial Drive. Make sure to grab your tickets by calling your restaurant of choice.