This is a compensated campaign in collaboration with Johnson's® and Latina Bloggers Connect.
Put your hand up if you remember when your mom brushed your hair when you were a little girl? Uhm, I specifically remember how she used to tug through my knots. Oh, and how I would lean back so that it wouldn't hurt as much when she was trying to detangle my hair. That would only make her brush harder or say "quedate quieta cipota." Hahaha.
Back then there was only water to spray into those nuddos, and lets face it, that didn't really make to much of a difference. If anything, I felt que te enredaba el pelo mas. Am I right? I used to dread the morning because I knew my mom was going to peinarme y jalarme el pelo para sacarme los nudos, para hacerme una peinado muy bonito (sea una cola o trenza). Sometime having a good hair came with a couple of "ouches" and "sit still!." Not fun for both parties.
Bueno, now a days, ni se diga. Everyone and there momma has some sweet method to make brushing thru those tough knots a lot easier. Woo-hoo, thank goodness. Because my Little Moon has a TON of hair (thick), and girrrrl can it get knotty, especially after waking up. That bed head of hers, is a whole lotta knotty. And I can't get myself to just comb thru it when it's really knotty because I have flash backs from my childhood. Jajaja and I don't want to put my Little Moon thru that…
Our Little Moon loves getting her hair brushed and I want to keep it that way. So a detangler is ALWAYS a good idea. It makes it super easy to get brush thru the knots and put her hair into either a cola de caballo, pig tails or braids. Yes, braids!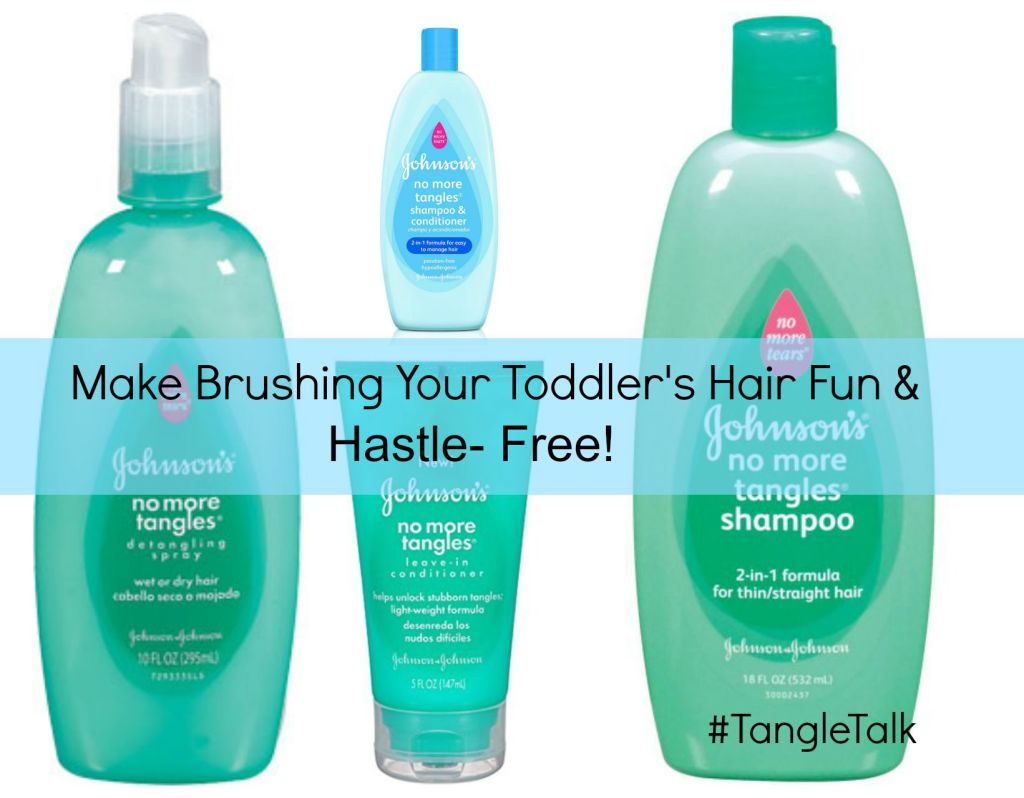 JOHNSON'S® NO MORE TANGLES® makes combing my baby girls hair a breeze. JOHNSON'S® NO MORE TANGLES® detangling spray goes to work instantly to unlock your baby's knots and tangles in dry or wet hair for easy trouble-free combing. Good hair days should be fun for both parties involved.
NO MORE TANGLES® frees parents to have fun with their toddlers' style & avoid getting tangled up in the knots of managing it. We love that you can make your baby's haircare manageable and untangled during or after bathtime with JOHNSON'S® NO MORE TANGLES®detangling spray, which provides extra detangling for both wet and dry hair.
Oh, and get this, Gabriel even used this detangler when his hair was long too! He loved how quick and effective it was. So there you have it, JOHNSON'S® NO MORE TANGLES®  isn't just for your kid(s), you can use it too! I love it when products can be used by all ages, get the bang for your buck, right?
Listed below is the JOHNSON'S® NO MORE TANGLES®collection:
JOHNSON'S® NO MORE TANGLES® Thin & Straight
JOHNSON'S® NO MORE TANGLES® Detangling Spray
JOHNSON'S® NO MORE TANGLES® Leave-in Conditioner
JOHNSON'S® NO MORE TANGLES® Thick and Curly
I'd love to hear about your hair brushing routine, do you use detangler on your child/yourself?
This is a sponsored campaign in collaboration with JOHNSON'S® and Latina Bloggers Connect. However, all opinions expressed are my own.