There is so much to see and do in Vancouver, that sometimes it can be a little overwhelming especially if your a tourist with a limited amount of time. But, WESTCOAST Sightseeing's Hop-On, Hop-Off sightseeing pass is a fun and flexible way to see the best of Vancouver. Last week, I was able to be a tourist in my own city and experience WESTCOAST Sightseeing's Hop-On, Hop-Off (HOHO) summer route.
I want to mention that WESTCOAST Sightseeing is Vancouver's only company with convertible, clear-top bus covers for stunning views rain or shine; which is perfect for our Vancouver weather, you never know when it'll start or stop raining, hahaha.
Hop-On, Hop-Off bus picked us at Canada Place, located in the heart of Vancouver's downtown harbour front.  Upon "hopping-on" the WESTCOAST Sightseeing HOHO bus we were warmly greeted by Jackie and her team. We went through Coal Harbour/West End and headed to the Vancouver Aquarium, located in beautiful Stanley Park.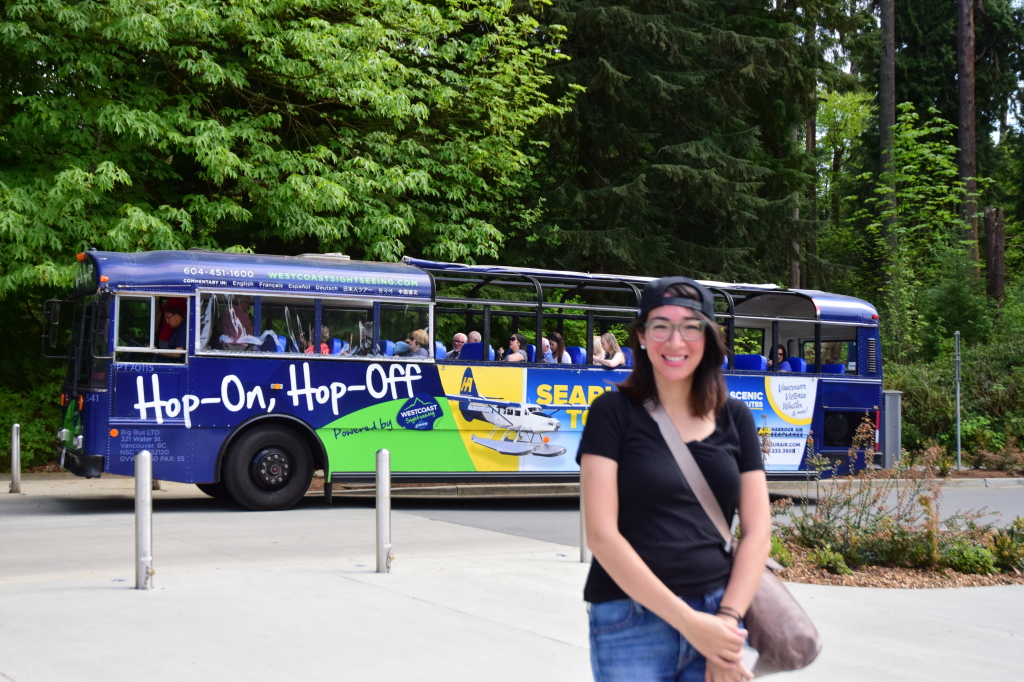 Arriving at the Vancouver Aquarium we were warmly greeted by Alexis who kindly escorted us to The Café, where we were served an ocean-wise lunch. I chose the Fish and Chips because come on, what better place to have fish and chips than the aquarium, right!? Hehehe. Anyways, the fish and chips were DELICIOUS; the fish was moist and the right amount of flaky and that tartar sauce was BOMB.
My attention was quickly grabbed by the fact…
that 95 percent of the dishes and utensils used to serve food at The Café are fully biodegradable and compostable. This includes: plates; bowls made from sugar cane; cutlery; cold drink cups; salad containers made from corn; and coffee cups and napkins made from paper. All new products used at The Café must be both compostable and made from renewable resources.
How AMAZING is that? I wish more establishments would follow the Vancouver Aquarium's lead!
After lunch, we headed into Discover Rays, the Vancouver Aquarium's newest exhibit where you get to roll up your sleeves, and have a hands-on (literally) encounter at the Discover Rays touch pool. I'm going to admit that I was feeling a bit nervous about touching stingrays. I thought, "Aren't these fish dangerous? Didn't the Crocodile Hunter die from getting stung by a stingray?" But then I came to my senses and realized that OBVIOUSLY the Vancouver Aquarium wouldn't put "dangerous" stingrays in a tank to be touched by human, they wouldn't risk injuring animals or humans!"
The lady leading the exhibit told the crowd that the new 50,000L Discover Rays touch pool is home to both cownose and southern stingrays. Not only will you be able to get up-close and personal with the rays, you'll learn all about their slimy armours, their amazing sixth sense, and why stingrays have big mommas. You'll also find out how overfishing and other human activities are threatening rays.
So after a couple of minutes, I gently stuck my hand in the water and waited for a stingray to swim right under. Stingrays feel slimy, I would describe the feeling as a wet gummy bear.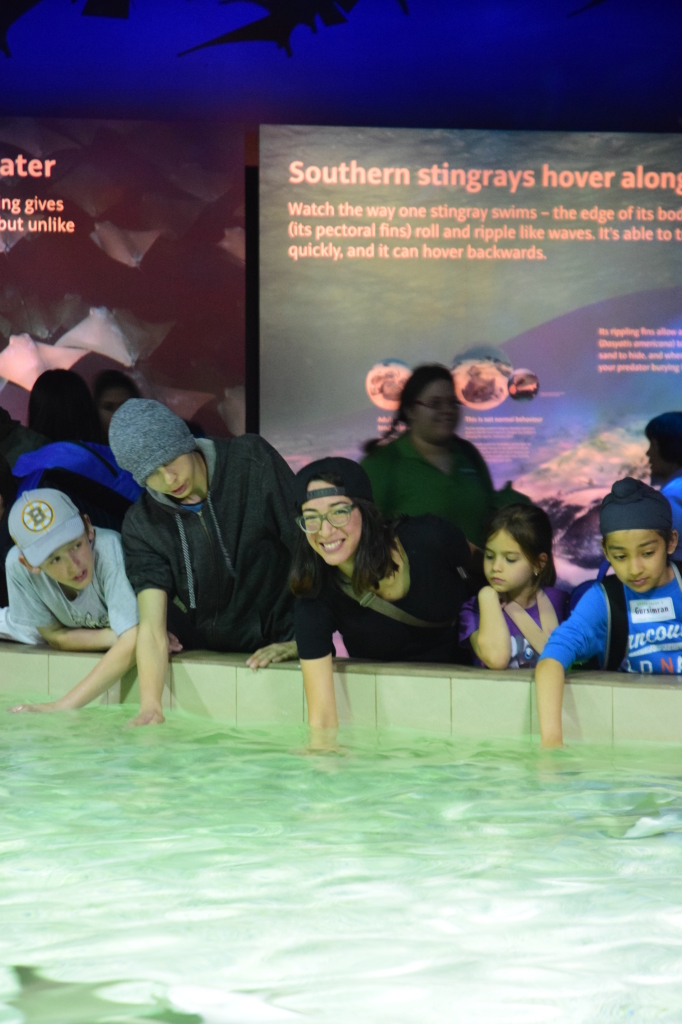 After departing the Vancouver Aquarium, we enjoyed the scenery from our seats, which included the seawall, beaches, mountains,and so much more. There are as many as 7 stops in Stanley Park, voted the best urban park in the world! For me, Stanley Park is a MUST SEE for ANYONE visiting Vancouver.
Leaving Stanley Park, we gazed at English Bay, Sunset Beach and eventually headed down Davie Street, where you can fund some really great restaurants and some LGBT pride, one of Vancouver's liveliest neighbourhoods. From here the WESTCOAST Sightseeing HOHO bus headed towards the BC Sports Hall of Fame, driving thru Yaletown, another trendy neighbourhood located in Downtown Vancouver.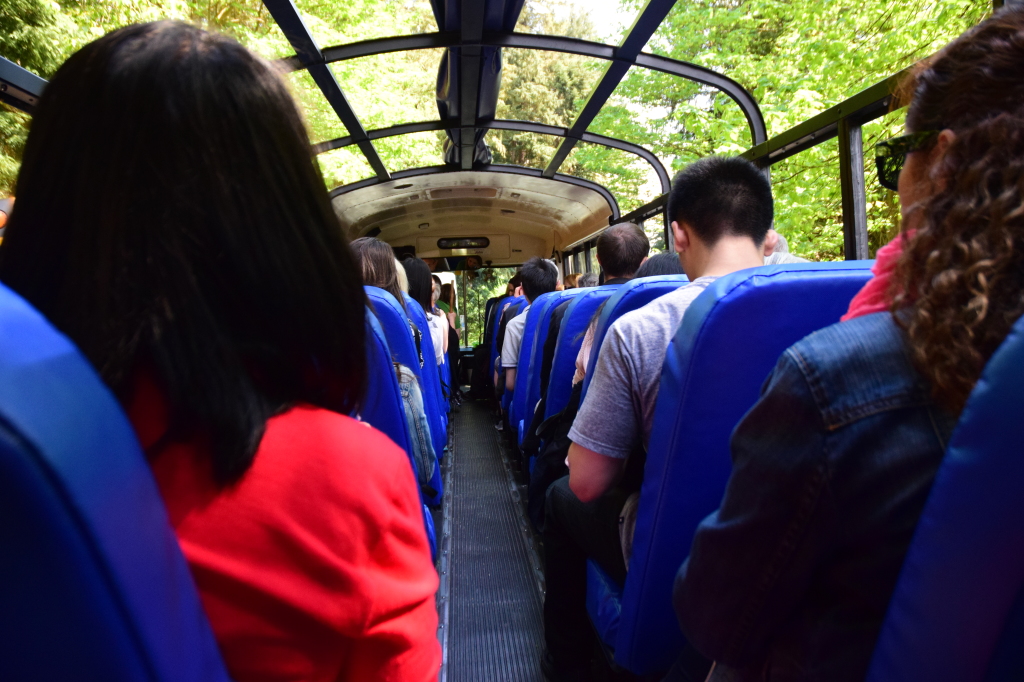 At the BC Sports Hall of Fame we were greeted my the team and they had a lovely array of wine and cheese. We were able to relive and rejoice the amazing experience that was the 2010 Winter Olympics, which Vancouver hosted. The 2010 Olympic Gallery is full of awesome memorabilia from the 2010 Winter Olympics. We learned about many important athletes that were born in BC who did amazing things for not only their sport, but science as well, like Terry Fox and Rick Hansen.  I think the Aboriginal Sport Gallery is one of my favourite galleries inside the BC Sports Hall of Fame. We were also able to get a behind the scenes tour of BC PLACE, home of the Vancouver Whitecaps (MLS) and BC Lions (CFL) and host to many concerts and conventions. Our behind the scenes tour included a walk onto the field and getting a sneak peak into the BC Lions dressing room.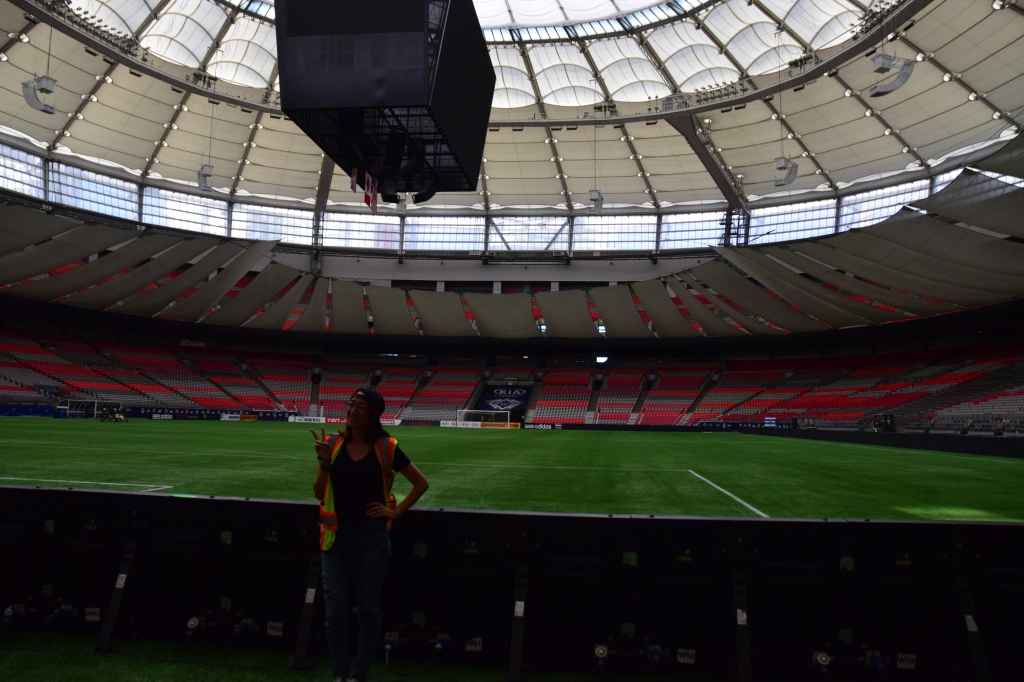 The BC Sports Hall of Fame and behind the scenes tour of BC Place concluded our experience with WESTCOAST Sightseeing's Hop-On, Hop-Off and I couldn't believe we were able to see and do so much in 5 hours! The HOHO drove down to Gastown and back to Canada Place, where we all said our hasta luegos and muchas gracias for a wonderful day.
Whether you're a local or tourist, exploring Vancouver with WESTCOAST Sightseeing is a lot of fun. You get to experience Vancouver in a unique way by choosing from over 20 stops to create your own adventure. The summer schedule runs ever 15-20 minutes, so you can spend as little or as much time as you like at each stop! The WESTCOAST Sightseeing buses are equipped with world-class commentary in English, French, Spanish, German, Japanese, Korean, and Mandarin.
Our friends at the Vancouver Aquarium would like to giveaway 2 passes to a lucky NOTM reader! Follow instruction below.
a Rafflecopter giveaway

I'd love to hear whether or not you have experienced seeing a City via a Hop-On, Hop-Off style bus, and if so, what City?