There are the classic items that you need to have when you are expecting a baby, and with time some of those products get improved. For example, the bassinet has evoloved over time; the material it's made from (wicker, metal, plastic, etc), the mobility, the settings (music/vibrations). And this Summer (2014) HALO is introducing the breakthrough design of the Bassinest Swivel Sleeper. The cool thing about the Bassinest Swivel Sleeper is that it rotates a full 360 degrees from two different pivot points. This means that you can pull it into the bed next to you and also rotate it circularly, making it easy for you to angle it as needed, which also makes it easier for you to get in and out of bed.
The first month when Luna was sleeping in her bassinet I never felt close enough, eventhough her bassinet was right beside my bed. I had to sit up and touch her because it was uncomfortable for my arms if I was laying down and reaching in. I  know I'm not the only mom who was always popping my head up and leaning over into the bassinet to make sure that baby was breathing…right?! With lack of sleep, I often felt like a zombie rolling out of bed when I had to get up to get her out of the bassinet for feeds/diaper changes. Hehehe.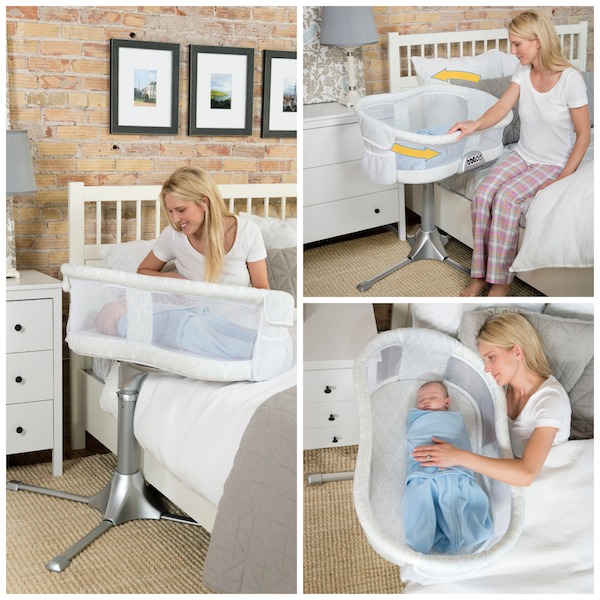 Imagine not having to do any of that? Well, it's possible now with the Bassinest Swivel Sleeper. The unique design allows baby to be closer to you while providing both convenience and safety. The mesh walls provide maximum visibility, allowing baby to be at eye level with you while in bed. Another unique feature is that the mesh walls are retractable, which means that you can easily lower the wall closest to you, allowing you to reach in and soothe baby quickly while still being in bed. It's convenient and comfortable, not only for baby, but mom too! You don't have to get out of bed to tend to baby.
Here is a link to a video that shows the Bassinest Swivel Sleeper in action:
The Bassinest also has some other unique features like a nursing timer, nightlight, soothing nature and womb sounds, music and gentle vibration. It is designed for babies from birth to 30 pounds or five months of age. The Bassinest  is available this Summer (2014).
I would love to hear what you think about HALO's Bassinest Swivel Sleeper?